Spencer Pratti is a driven individual. He is a full-time student as well as a full time underground ripper. Hailing from the "Fields of Opportunity" state and relocating to "America's Finest City." He's carved out a name for himself with sheer willpower and a drive to never let up. I think Spencer has shot a total of five photos in his life and three of them are in this interview. It just goes to show if you're ripping hard enough, people will take notice, regardless of what medium they find you in.
Why are you from Idaho?
Um, dude, I am from Iowa.
What's the difference between Iowa and Idaho?
Idaho's main export is potatoes. Iowa is known for its corn.
Does going to college make you smarter?
No ... well in an aspect, but at some points it just sets you back because there is so much other stuff going on.
How long have you been going to college?
I went for one year in Iowa and two in San Diego. So three years total.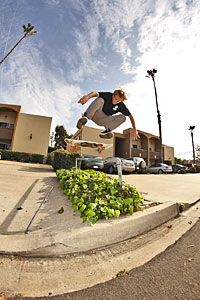 That's cool that you're all smart. On a completely unrelated note, Andrew Allen was called "The best fat skateboarder." I think you're giving him a serious run for his money.
I'm getting there. I just realized I am putting on some pounds.
What are you at, a solid 210 right now?
C'mon dude, no way. I am like 175-180 baby! Come on.
Are you hyped that you're "fully on" OJ wheels and Santa Cruz now?
Duh.
How did that go down anyways, you being from Iowa and living in San Diego?
I think I was at Pacific Drive one day and Cranny [Alex Horn, OJ's team manager] was here, all over the place being crazy. I thought, "Wow this guy is hilarious." I don't know, one thing led to another, I think I gave him my tape. Everything worked out for the best. Shout out to Cranny!
Are you your hometown hero?
I try not to be.
But are you, though?
No. There is this other guy, Scotty Cleland. There are a few rippers out there.
You tend to be a pretty anxiety-ridden guy. Does that help you get tricks, or just cost your sponsors more money?
I never really thought about it. I mean I do get stressed out. I don't focus boards, though. So I don't think it's costing my sponsors anything.
Tell some people thank you. This interview took me a week to get out of you and It's time for it to be over.
Thanks to Jim and everyone at Pacific Drive. Cranny up at OJ, Jordan at Santa Cruz, Carter at Etnies, Krucky [Ryan Alvarado] our filmer, the shop back in Iowa, Subsect. Mostly all the homies for keeping the flame lit. Skating every single day.
On the tail end of that, who and what are keeping you inspired to keep it going? Being a working am is not easy.
Just all the homies, Little Nick Suarez is so good. He keeps me super motivated because he's so young, throwing himself down everything. It's like, wow. I'm 22 years old ... starting to feel a little older, you know?