Sebo Walker is a new name to many in the skate world. Hailing from the Pacific Northwest, Sebo is incredibly talented but was stuck in flow-team limbo for far too long. Recently, however, Sebo caught he eye of Stacks skateboards' owners Michael Leon and Reese Forbes. With a new video part and powerful skating, it's time to start paying attention to him.
About six months ago you found yourself on Michael Leon's newly formed board company, Stacks skateboards. How did end up as their first sponsored am? Did you send them a tape or end up skating with Reese Forbes randomly?
They contacted me through a guy at Fuel TV after I filmed a "Built to Shred" episode. Reese and Michael had seen my footage and wanted to meet up with me. We had a meeting and talked, then I skated with Reese a week later down at the beach and they put me on as their first am. I'm so psyched to be a part of something so new and with a skate legend like Reese, and an amazing art director like Michael.
Being that Stacks was first and foremost a clothing brand were you a fan of their threads?
I didn't know much about it at first actually, but as soon as I got to know about it I was hyped on everything they were producing.
Prior to getting hooked-up with Stacks, you were flowed boards from Element for quite some time. If I remember correctly, didn't Element tell you things weren't going to work out and then randomly the Stacks offer surfaced days later?
Yeah, exactly. I had been on Element flow for like four years and the team manager at the time told me they would still send me one or two boards a month, but that I would never get on the team. The Stacks opportunity came up a few days later and from there things began to fall in to place. Timing is everything. I was stoked!
For as long as I've known you, you've always been into doing elaborate griptape art on your boards. How long do you work on each sheet of grip?
I work on a griptape piece for a couple hours, usually in multiple sessions. I like to grip a board early and paint the grip when I have some spare time. It's really fun for me and it helps keep up my art skills. I took every art class in school that I could. I do pieces for friends at no charge all the time.
A couple months back you headed down south to rough it and literally live in a van down by the river. How did that workout for you?
The van is great. I did the couch surfing thing for a long time, and got tired of waking up and feeling out of whack. I was able to fit my mattress from home in my van, so now I sleep really well every night, which is important. I have a gym membership so I shower and clean up there most of the time. As far as eating goes, I usually cook at friends' places or eat out somewhere.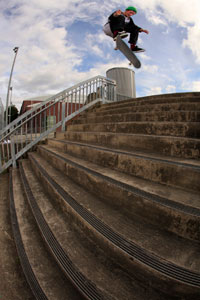 Would living in the van be a little more boring if you didn't have your iPhone? I'm hoping for your sake that you have some free Wi-Fi to piggyback off of.
I really don't hang out in my van. I just sleep in it. It's my mode of transportation when I need to get somewhere but I try to drive as little as possible. I read and paint usually in my free time and if I need wireless I go to a coffee shop or a friends' house.
You have a full-length part out right now. How long did you end up working on that part? Was the majority of the footage in the Pacific Northwest or Southern California?
I've been working on this part for the last two months. I have some footage from Los Angeles, Sacramento, and back home in Oregon. When I was back home it rained almost every day, which made it tough to film. The two dry days I got I was out all day filming, though.
So what are you plans for 2011? Any trips lined up with Stacks or any other companies?
After my Stacks part I'll be working on gathering footage for a few other projects I'm working on and getting as many photos as possible when I'm out skating.