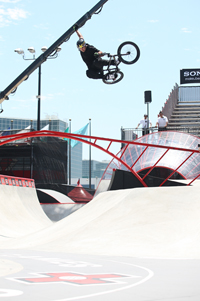 After undergoing reconstructive ACL surgery on both knees in late October of 2010, Greenville, N.C. resident and X Games 14 Bronze Medalist Rob Darden has returned to riding as of Sunday, March 6.
"It feels amazing," said Darden. "I have only ridden the Unit (Ryan Nyquist's warehouse in Greenville, N.C.) a few times. But I am like a little kid again just starting to ride. I pretty much had to relearn how to walk, so to be able to pump around the Unit just gives me the best feeling. I love going fast."
According to Darden, he was off the bike for 19 weeks, and is easing his way back into riding. "I am going to take it easy for a couple months and only ride the Unit. That place is the best for coming back from an injury because you don't have to pedal and your tires never have to leave the ground. You can pump around all day till your legs are on fire. It is a great workout while I get my bike control and strength back," said Darden.
Darden plans on returning to the competition scene once the season starts up, and is still on the lookout for new sponsors after being dropped by Premium and Osiris in December.
"I plan on doing every contest I can. I should be good by the time the contest season starts up," he added.
Darden's current sponsors include Arnette, Rockstar Energy, Ogio, Skullcandy, Xbalm and Team Blowin' It.
Darden, who stuck to a strict recovery regimen, also offered words of advice for riders with and without knee problems. "Listen to your body and strengthen and build up the muscles in your legs, even if you don't have knee problems. This will help prevent injuries in the future. If anyone out there is going to have surgery, get the swelling out of your knee, get your range of motion back and strengthen your leg before surgery. It will make the recovery that much easier and quicker. Then continue to do the same after surgery. Do not slack off! No one ever got strong thinking about it."
In mid-November, Darden was hospitalized for complications following his surgery, which left him with blood clots in his left leg and lungs. He was placed on a six-month blood thiner treatment and released after several days in the hospital. At the time, Darden was unsure of when he could return to riding, but that seems to have passed.
Welcome back Rob. Your one-handed tables have been missed.
ROB DARDEN ON ESPN BMX
xgames.com