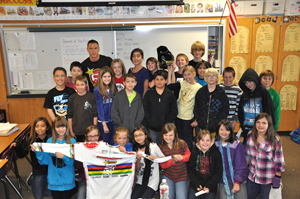 Olympic gold medal BMX racer Maris Strombergs was recently offered the opportunity to spend some time at Cole Canyon Elementary School in Murrieta, Calif., to tell the students about himself, BMX and how he progressed through the sport to become one of the top pros today.
A friend of Strombergs whose wife teaches at the school invited him in to do the speaking engagement, with the main message of the visit being to "Believe in yourself, work hard and surround yourself with good people," says Stromberg. From there, the Latvian-born Free Agent sponsored pro ran with it. Speaking to with the children, 23-year-old Strombergs explained that "Sometimes you have to take some risks to be the best at what you do, and that you have to keep at it and work to achieve your goals."
After his talk, Strombergs was on hand for kids to check out his Free Agent Limo and Free Agent/Rockstar Energy gear, sign autographs and give away a jersey and Maris Strombergs Free Agent cards. "The kids wanted me to sign everything they had: bags, shoes, forehead's just everything," says Strombergs. When asked if there were going to do similar visits in the future, Maris said that he would really enjoy doing it again, but that "Next time when I will do it, I make sure I'm more prepared!"
Currently, Strombergs is still recovering from an injury suffered in the days leading up to the 2010 ABA Grands. That last time Strombergs spoke with ESPN, he was hoping to be back on a bike for March or April. Unfortunately, Strombergs has now pushed his BMX return back to July 2011, just in time to defend his world title at the UCI World Championship in Copenhagen, Denmark on July 30, 2011.