Let the record show, Travis Pastrana is a ridiculously good-hearted human being. Since day one of this Nitro in New Zealand rollick, the man in the 199 jersey has been as keen to smile and press the flesh with the public as he has been to go big on his Suzuki. From lines outside of late night kebab stands and bustling hotel lobbies to lengthy pre- and post-show autograph sessions, the captain of team Nitro has made himself unendingly and, in the eyes of his security detail, maddeningly accessible to his adoring Kiwi fanbase. But what he orchestrated for one young man in the capital city of Wellington this past week is the stuff of legend.
Sitting around a sun-soaked table on the Wellington waterfront for a late breakfast the morning after Nitro's second show, Pastrana announced simply, "I've got something I need to do today." After a bit of mild heckling from the boys and girls at the table, Pastrana continued, "There is guy in a hospital around here, he just came out of a coma after crashing pretty bad on his bike and I want to surprise him." Then, turning to Nitro's Creative Director Dov Ribnick, "I think his name is Craig something, do you think we can make that happen Dov?"
Sure enough, less than an hour later, Pastrana, Jolene Van Vugt, Erik Ronner, Special Greg Powell, Lynz Adams-Hawkins and Dusty Wygle, loaded in the van and headed to Wellington Hospital. "Basically, some of his buddies came up to me after the show last night for autographs and told me about their friend that was a huge Nitro fan but couldn't make the show because he was in the hospital. They weren't jerks about it and just mentioned that he had a real bad crash and that, if we could surprise him, it would be a pretty special thing," explained Travis on the ride over.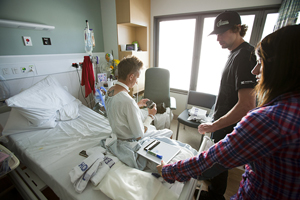 Turns out, Craig McKenna didn't just have a "pretty bad crash." He nearly died. Three weeks prior to Nitro's impromptu hospital call, McKenna had flipped his dirtbike off a jump, coming up short on the landing and slamming full force straight into his handle bars before wiping out in a spinning heap. His injuries put him in a coma and required a tracheotomy, amongst other things. However, after sweet talking our way past the protective nurses, and watching his eyes pop out of his head as Pastrana and Joelene -- completely unannounced -- walked around the corner to great him hobbling out of his room, it was clear he is on the road to recovery. Unable to talk yet, McKenna fumbled with the dry erase board he currently has to use to communicate and wrote in big blue letters a word that can't be repeated followed by "AWESOME." The kid was stoked beyond belief -- his visible awe of what was happening beaming across his face.
For the next 45 minutes, the Nitro crew hung out with McKenna, getting the lowdown on his injuries, signing his cast, watching video of his wipeout, posing for pictures and offering words of encouragement on his road to recovery -- a journey that many of them know all too much about. On our way out, a nurse, her eyes glassy with the hint of tears, grabbed my arm and squeezed, "Tell them they just made that young man's day right when he needed it most. It has been hard for him and this is simply amazing ... so amazing."