In today's society, it's hard to imagine calling a female a beast without getting a nice slap to the face. Hana Beaman's a beast, though -- a beautiful, graceful beast, but she'll shut down a male ego in no time flat when she steps on her snowboard. And she has been known to head butt people from time to time. If Tara Dakides was the first female to hit the same jumps and rails as the boys, Hana was the one that picked up the reigns where she left off. We caught up with Hana to talk about dating rock stars, her new web series, and shredding in Alaska.
Hello.
Hey. Sorry I missed your call earlier.
No worries. I was just trying to be weird on your voicemail.
[Uncomfortable pause] Yeah.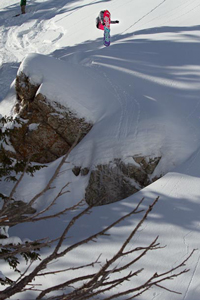 What are you up to today?
I'm up in Jackson Hole right now. We rode the resort today, did some hiking, and then rode the Stash Park. It was a really fun day -- we rode from open to close.
Did you just compete in the X Games?
Yes. It was fun, but it was a huge change of pace because I have been riding mostly powder and hitting backcountry jumps. It was kind of a shocker to show up and ride big firm jumps.
Aren't you kind of a contest jock though?
No. I think 2007 was the last year of really focusing on competition. The last three or four years I've been focused on backcountry riding and filming video parts.
Is that because you're getting old?
[Laughs] Could be.
You're like the new age Tara Dakides -- are you going to start dating rock stars?
[Laughs] I wish! If you know any single rock stars that are looking...
I know a ton. I will have them Facebook you.
Perfect.
You have new web series reality show on Snowboarder Magazine's website -- tell us about that.
I just sort of came into it this season. I was really trying to figure out what I wanted to do for the year, and I knew I wanted to film, but I wanted to be on my own program. It allows me to go wherever I want to go and ride with whom I want to ride with. I rallied some sponsor support and hired a filmer, and now I don't have anyone telling me where to ride or who to snowboard with.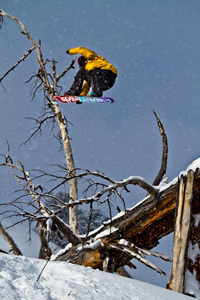 Is there going to be any reality show drama? Like will some trashy girl that you were friends with in high school show up and try to steal your boyfriend?
[Laughs] I don't really see that happening. If that's what the public wants, though, we can work on making it happen. It will mostly just be us having a good time snowboarding.
We can't even get one fight out of you?
Well it's not planned for the show, but I have been known to head butt people and wrestle once I start partying. We might get some late night wrestling action in there.
What's the rest of the season going to look like for you?
We are going to head back to Southern Colorado in a few weeks and ride with Jenny Jones, and after that it's sort of up in the air. We're just going to go wherever the snow is good. The biggest trip will be when we drive up to Alaska for Tailgate, -- we're going to take three or four weeks and do some backcountry riding.
It seems like only a handful of girls are really stepping to bigger backcountry lines and features. Do you think that's the next arena for women's snowboarding to really progress?
Yeah. I mean, it's a natural progression. You can only hit and rails and huge park jumps for so long before your body starts to break down. Getting into the backcountry is super fun and you can still push your snowboarding. The danger isn't as in your face or self inflicted as when you are riding a handrail. The danger out there is ever-present, but it's based on the conditions of the terrain and your knowledge of what's going out there. It's what I'm going to focus on, and it's super fun. So, yeah -- I want to progress out there.