For years, Maineville, Ohio to Woodward, Pa. transplant Jeremiah Smith has been mistaken by casual action sports fans for snowboard/skateboard star Shaun White. The two share little resemblance to each other past long, flowing red hair, but that hasn't stopped fans from asking Jeremiah to pose for photos with him (under the guise that he is Shaun White instead of a BMX pro that rides X Games Park and is able to throw down some of the sport's more stylish superman seatgrabs.) Jeremiah laughs off the comparison and doesn't pay it much mind. Instead, he's focused on riding. And in the new year, that means more street, more trips and possibly more tattoos. Recently, while on a filming trip with parts sponsor Snafu, Jeremiah sat down to field some tough questions. This is Jeremiah Smith -- not Shaun White.
ESPN.com: Gotta ask about the Shaun White resemblance. What's one good story about a fan that though you were him?
Smith: It happened about two years ago after the Salt Lake Dew Tour. Kathy (the Levi's TM) took the team out for a Levi's dinner. When we arrived at dinner, everyone was looking at us and I thought it was because we had Jamie [Bestwick] and Nate Adams with us. Soon after I sat down, I found out it was because of me. The whole time we there, this one family kept looking over. Jamie said, "They think you're Shaun White!" I was like, "No, it's because you and Nate are both big time." When the waitress left, the family and came over to ask me if they could take a picture with me. Everyone started smiling and laughing. I stood up and the family put their hands around me and took the pictures. Then as soon as they left, everyone started to laugh and wouldn't stop talking about what happened.
How did you design your Flying Lion frame?
I designed my frame by taking height, length, head tube angle and weight from different frames I have ridden in the past years and just combined it into one frame. I added a few little things myself, like the Failure logo seat stay bridge, removable brake mounts on the chain stay and seat stay, and micro dropouts for the clean look. Then I had help on making the frame strong from Bischoff.
You did an up-rail to downside whip on the Snafu trip, had you been working on them?
No I did that like teo years ago for an outdoor street edit at Woodward Camp. I just never get to film it. But this year, I will be putting out a few State College street edits that should be good, I hope. I can't wait to start filming.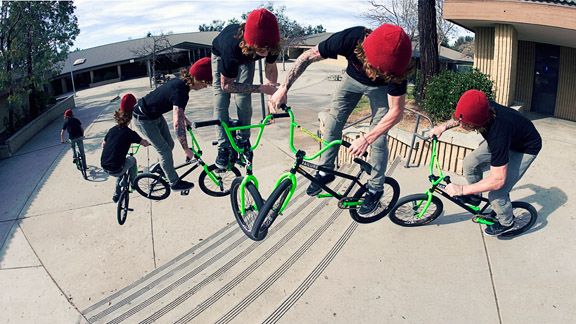 How was the Snafu trip you were just on? The footage was pretty nuts. How does the team get along and how does McGoo factor into the equation?
The Snafu trip was amazing, but I felt sketchy pretty much every day, which sucked. Everyone on the team gets along amazing and just loves to ride all day and have fun at night. McGoo is the one that makes everything happen, he was also entertainment when he wasn't busy with Snafu.
You and Matt Biscoff (Bossman at Failure) are both red heads. Do you have a special bond or share sunscreen on road trips?
Yeah, when we are together, we are an unstoppable force. People are scared when they see us walking down the street together. I don't really use sunscreen unless I'm putting it on my tattoos and every time I'm around Matt, he is never using any.
When did you start getting tattoos?
I started getting tattoos about five years ago. My first tattoo was guns and roses. I didn't get it because of the band, I got it because it was on a sweet shirt design that I saw. I wish I was smart and just waited until I thought of a full sleeve. I'm currently working on finishing my sleeve on my right arm. It has been taking forever to get it done because I'm always busy with traveling, contests or shows. Plus its a nine-hour drive to my tattoo artist. My artist's name is Brian Lee. He is out of Greenville, N.C.
Do you like riding street or park more? You hold it down pretty hard with no brakes on both.
To be honest, I love riding street. I started out riding street but when I moved to Woodward, I stopped because no one there rode street at the time. This year, I will be riding a ton of street and going to putting out some Web edits. I still have fun riding park and love going to contests though, so I'm going to stay up on my park game while focusing a little more on street.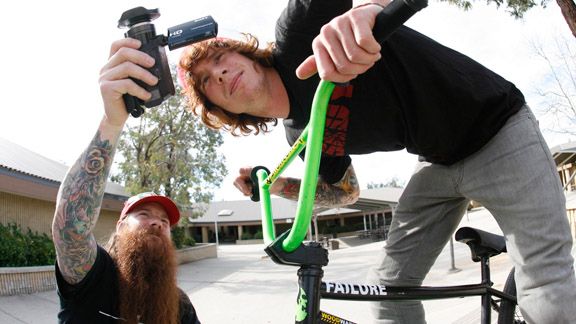 Did you know that red heads are becoming a rare breed? They say in a hundred years you're kind will be extinct.
Wow, I didn't know that, kinda crazy if you think about it because I seem to see them all the time. I think that might just be a red head thing though. I think all the red heads out there need to step up there so we do not become extinct.
xgames.com