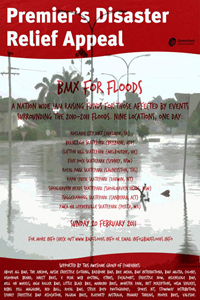 As Australia slowly begins to recover from recent flooding throughout the country, the Australian BMX industry is rallying behind a series of nationwide jams that will happen on February 20 and benefit those affected by the floods. Brands such as Colony BMX in Brisbane, and Stowaway Distribution in South Australia, are pitching in product and support for the nationwide BMX For Floods cause.
"The flooding here has been pretty crazy. There has been many lives lost, property damage in the billions of dollars and loss of income in the billions as well. It's going to mean some tough times for many in the months and years ahead," says Colony BMX owner and Australian pro Clint Millar. "But as a community we will all pull together. Events like BMX for Floods will help people affected pull through it all," he continues.
Brisbane BMX brand Colony BMX is located in one of the areas that experienced the country's worst flooding in decades. Although Colony's offices and sponsored riders were not directly affected by the floods, Millar feels a duty to his community. "The jams will help raise much needed funds for those that have been affected by the floods. Many people have been denied insurance coverage and have lost everything. This is a way for those in need to get some help to get their lives back on track," he said.
Colony is donating over $8,000 in Colony BMX products to the cause, which will be raffled off at the BMX For Floods Jams on Sunday. "We collectively stand to raise some good cash to help those out in need," says Millar.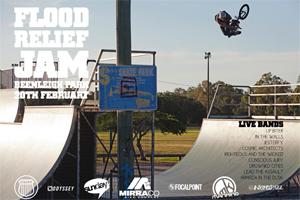 Although located in the suburbs of Adelaide, far from Brisbane, Stowaway BMX Distribution's Jamie Moore is in agreement with Millar. The distribution house, which handles brands such as S&M, T-1, United and Animal, is donating product to Sunday's Adelaide area jam. "We have donated bikes and parts from United and S&M for a massive raffle, with 100 percent of the proceeds going directly to the Queensland Government's flood relief donation fund," says Moore.
Stowaway's offices were also not affected by the floods, but Moore was moved by the effort, spearheaded by BMX For Floods organizer Shaun Jarvis. "I saw the destruction on TV and once I talked to Shaun, I made up my mind straight away to get behind his jams as best as we could," says Moore.
Currently, the BMX For Floods consists of nine separate jams happening throughout the country on February 20. 100 percent of the donations will benefit the Premier's Flood Relief Appeal. In addition to Colony and Stowaway, BMX For Floods is being supported by well known BMX brands such as Focalpoint, Sunday Bikes, Verde BMX, SE Racing, Haro, Mankind BMX and Pilgrim Bike Co. among others.
"All I can say is I urge all those that can come along to your closest jam have a great day of riding and give where you can. Everything big or small will help someone in need," said Millar. Moore is in agreement.
"Our small community [BMX] can give something back to people outside of our community that have suffered greatly," says Moore.