I found myself at the roulette table on the Nooksack River Casino in Deming, Wash. on Banked Slalom Saturday -- the result of getting to Mt. Baker at noon and having it shut down two hours later because the chairlifts nearly pinwheeled off the cable due to Leviathan winds and rubber bullet-sized snowflakes.
It doesn't really get sunny in Washington for nine months out of the year, and Washingtonians tend to look a bit sickly in the winter. Nowhere is this intensified more than in a casino. Call it a shortage of vitamin D, but skin turns to a shade of translucent gray, eyes fill with apathy, and it's all a person can do to keep it together in front of a table full of equally depraved individuals looking to make or lose a quick buck -- myself included.
I left when I was down $30. Not much of a gambler, you could say. Besides, it was dumping for the first time in weeks. It was time to cash in for the night.
Even when rain-soaked and snow-deprived, snowboarders, and riders in the Northwest particularly, always seem to have a twinkle in their eye -- a certain immunity to the mid-winter funk experienced by the rest of the stuck-indoors population. When the cold, dark and wet moves in, this inner light only intensifies. It's as if they're keeping a secret from the rest of the world, and during the 26th annual Mt. Baker Legendary Banked Slalom, the secret got out.
The LBS is a place where a 17-year-old can compete alongside Terje Haakonsen and Jamie Lynn -- the Michael Jordan and Lance Armstrong of the shred world -- and win. It's a place where the defending women's champ and reigning Olympic Gold Medalist can win with a broken arm. It's a place where you can feel Northwest snowboard legacy in the air without ever stepping foot on the course, especially when it's a pow day and the sun is beaming.
"I feel like I'm on top of the universe right now," said Pro Men's category winner Harry Kearney after accepting his gold duct tape trophy. "It's ridiculous; I've never felt like this before."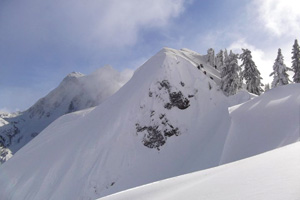 It's a sentiment felt by throngs of shreds -- from pros who stop through just to soak up the camaraderie of the event in the midst of their hectic seasons, to locals who try to best their friends' times year after year -- because at Mt. Baker, the top of the universe really does feel that much closer.
Maybe it's something in the water. But considering the majority of folks who embody this event run off calculated proportions of alcohol and caffeine, that's probably not it. My best guess? The Baker Feeling is an equation that factors in unparalleled terrain, duration of time without accumulation, renewed coverage, blue skies, old friends, new friends, hero spottings and eating the occasional slice of humble pie.
Maybe it's that there's just "nothing like having your knees in your face from the G forces," said Pro Masters category winner Mark Fawcett, who raced his first LBS in 1991 -- the year Craig Kelly won his second LBS.
New heroes are born every day at Mt. Baker, but never is this truer than on Banked Slalom Sunday. My friends since preschool got their first taste of turns on Shuksan Arm, Terje won the switch race and 17-year-old Kearney now has his name quilted into the fabric of Mt. Baker history.