If you're any kind of fan of action sports, you know who snowboarder J.J. Thomas is. He took Winter X Games gold in 2002. Although he didn't qualify for the SuperPipe finals at last month's Winter X in Aspen, his 14th place wasn't the stat you'd notice. That would be his age. Dude is 29 -- a veritable relic in competitive snowboarding.
If your entire world revolves around your Fantasy Surf Team, don't worry, I'm coming back to you.
Thomas was on the 2002 Olympic Snowboard Team with Gold and Silver medalist, Ross Powers and Danny Kass. Powers, now 31, continued to ride SuperPipe until 2005 and then switched over to Boarder X where he netted a ninth place this year. Kass, 27, didn't compete in Aspen at all. Point being -- it's considered a badge of honor that these guys, and their knees, are still going big at their ages. The "veterans" of SuperPipe are 24 years old: Shaun White was the second-oldest guy in the field.
On Thursday it was announced that Mark Occhilupo will get a Wildcard entry into next week's 4-star Breaka Burleigh Pro in Australia. He's 44.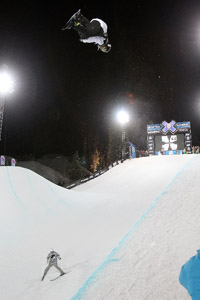 Yes, Occy gets the Wildcard slot, along with 17-year old Tommy Woods of Burleigh Heads. Ironically, Thursday was also Kelly Slater's 39th birthday.
Is Occy's slot kind of a "gimme?" Is he a novelty pick, who's going to draw nostalgic fans down to Burleigh Heads or the glow of the webcast? Hardly. Last year, Occy surfed through several rounds at this event, actually beating a 1980s rival, Nicky Wood. In addition to surfing the Clash of the Legends at the Reef Hawaiian Pro in December, he also beat some notable locals in the actual contest, including Mason Ho. Occy is still surfing in excellent form.
Occy was in the top 17 in 1984. He became an icon of pro surfing in the 80s, but burnt out to some degree. He lost battles to sweets (and harder stuff) and at one point, weighed 244 lbs. But then he staged the greatest comeback of surfing history, shedding off pounds and challengers to win a long-deserved World Title in 1999.
This says a lot about surfing. While the backside of 25 are the golden years for many action sports athletes, Occy is a legitimate threat. Moreover, no one wants to draw Slater in Round One of the Quiksilver Gold Coast Pro later this month. Taylor Knox will be 40 in May and is about to do his 19th season on the World Tour. Did you see T. Knox surf the Pipe Masters? We should all be buying exercise balls!
There actually is a "gimme" wildcard. That goes to Rhys Stevens, 22, of Bulimba. Stevens is a marketing rep who was picked for Breaka Flavored Milk's "Win A Wildcard" competition to compete with the big boys.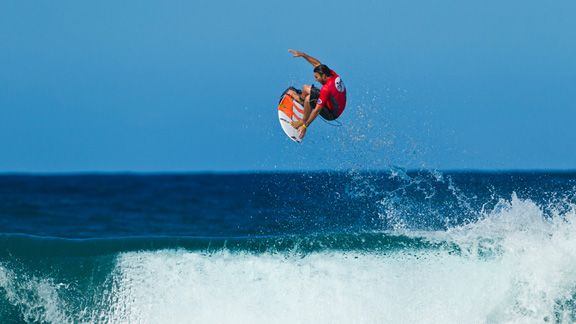 The Breaka Burleigh Pro runs February 16 to the 20 and starts the Australian leg of ASP Prime, star, and World Tour events for 2011.
Surfers, especially those chasing purple blobs around the globe, do face danger, but water is still more forgiving than packed snow, concrete, or masonite, reducing career-ending injuries. And in the long run, surfing is simply good for your body. (Just wear your sunscreen.)