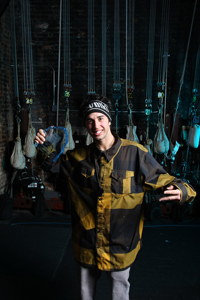 Ahmet Dadali had a good night at the Powder Video Awards in late January, winning the award for Best Jib and The North Face Breakthrough Performance award. Dadali's award-winning segment (complete with his Best Jib S-rail-to-S-rail transfer) opens Level 1's jibocentric 2010 release, "Eye Trip." Level 1 recently released a bonus segment of Dadali's cutting room floor material from 2009-2010.
Dadali's street-heavy style of skiing makes him seem like an unlikely Breakthrough Performance winner at an event primarily concerned with, as the name of the presenting magazine suggests, powder. But Dadali is a breakthrough kind of guy -- he'd amassed a solid minute of nasty handrail shots before tearing his ACL at the turn of 2009.
A year and a knee reconstruction surgery later, he started pounding the pavement with a vengeance. "Right out of the gate, Ahmet came out swinging," said cinematographer Kyle Decker. "I watched him spill blood countless times throughout the season."
Decker, who edited the Dadali bonus video, shot the majority of Dadali's award winning video part. "[Tom] Wallisch and [Mike] Hornbeck joked at one point that Ahmet enjoyed the pain cause he was such a nutcase," recalls Decker. "He knew exactly what he wanted and did whatever it took to get it done."