Who Is Andrew McGraw? Back in October Zoo York announced a new international pro, Canadian Andrew McGraw. In unison, all 307 million Americans asked, "Who?" We'd never heard of Andrew McGraw. Some of us had never even heard of Canada. That is the American way; if it's not from these here United States we don't want to know about it.
Well, it turns out that Andrew goes way back with Eli Reed and Zered Bassett and we would have heard about him by now had we not banned him from our country. I felt it was my civic duty to interview Andrew, welcome him to the neighborhood and get to know him, if for no other reason than to at least make sure he wasn't a serial killer.
Being on the East Coast, what do you do to keep sane when you can't skate due to all this the snow we've been getting?
Well, I just went on a little vacation for three weeks to Barcelona with a couple homies. Other than that I go out and play hockey randomly.
Are you obligated to play hockey because you're Canadian?
No, but I played for like 12 years growing up, then I got into skating and left everything on the side. But as I got older I got some skates and a stick because it's so gnarly in the winter if you don't embrace it then you're just stuck in the house for the entire season.
You get in any good fights when you played when you were younger?
In Canada they don't let you check or fight until you get to Bantam. I only played until Pee Wees. I stopped when I was 15. But I got in fights before in hockey. I got kicked out of my junior high league for fighting on the way back to the dressing room and they never let me play again.
What does it mean exactly to be an international pro?
I guess it means not living in America and not being in the main industry. I guess it's being able to be pro but not having to live in America. I know a few other dudes that have the same deal, a few Europeans and Mike McDermott from Winnipeg [International pro for Habitat]. I guess it means to have a relationship with the company but not be in the mix of things all the time; you're just off in another country.
Does it count the same as being pro in America?
I don't think it does in America but to people up here it kind of does. Kids are stoked off it. For me it doesn't change anything to be pro; I'm still going to do the same thing. But to other kids they seem to be real stoked on it. It gives them incentive to keep doing what they're doing.
Are you better than Andrew Reynolds?
I'm definitely not on that caliber of skating, no.
How long have you been riding for Zoo and how did that come about?
I've been with Zoo for the last year or so. I lived in Boston on and off as a kid and I knew Eli and Zered. Then I moved back to Canada and they'd come up here. Then I met Seamus Deegan [Zoo York team manager] and then a guy from Canada went to work at Zoo, his name is Ben, and it all came together.
Because you ride for Zoo and you're Canadian, do you wear 7-XL ghetto gown T-shirts?
I can say I've never been down for the ghetto gown. Even as a little kid who was more influenced by hip-hop, back then I never got that gnar with the T-shirts. There's definitely some kids that are way into it. Where I'm from in St. John, New Brunswick people didn't dress like that; you would just get clowned. It was more like kids from Toronto and Montreal.
Were any of your neighbors Vikings up in St. Johns?
No, I think that's more Newfoundland.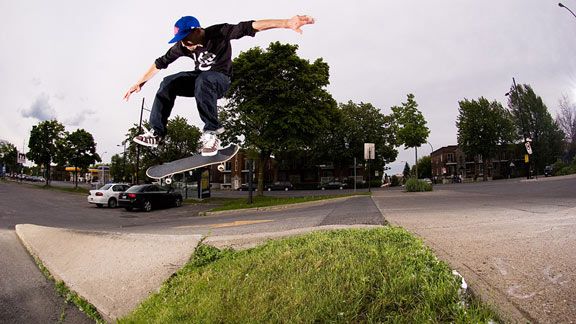 I heard you're now banned from the U.S. Why?
I went to the border and lied to them and they called me out on my lie. I'd always tell them I was just going to Boston to chill for a bit. One time I was with my uncle who is a dual citizen of Canada and America and we agreed to say we were just going over to Maine to shop for the day and come back. I've said it before and it has worked and it's less of a hassle. So we said that and then they took us into separate rooms and my uncle snitched on me and told them I was really going to Boston.
What a rat!
Then they kept me and put me in handcuffs and sat me in a jail. Meanwhile my uncle said he had to go to work and drove off. I had to call my sister, I'm like 19, I'm starting to cry. Then my sister comes and gets me and they barred me from entering the States five years. They definitely weren't chill about it at all; they wanted to make an example out me.
When are you able to come back?
I am now but I need a waiver to reenter. The best way to do it is with a lawyer and you have to pay lawyer fees and it's roughly $1,500 to $2,000 to have it sorted out. That waiver clears you for five to seven years and then you have to renew it. I've been meaning to do it but I kind of feel obligated now because I have a relationship now with Zoo York.
You should do it. America is better than Canada anyway so you definitely want to be here.
It's a close tie, I think.