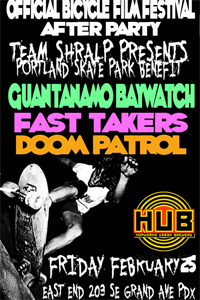 It's been a few months since we've heard anything from Dean Dickinson and the Team Shralp camp, but Dean is back (now fully healed after breaking his leg last year) and ready to host some new events. First up on Dean's list is a skatepark benefit show at the East End Bar in Portland, Ore. on Feb. 25, running in conjunction with the Portland Bicycle Film Festival. The film festival, being presented at the Clinton Street Theater, will host such Dickinson joints as "BMX at Burnside," as well as "The Birth of Big Air" and Team Shralp's Pink Motel Pool Party.
Afterwards, Dean and Team Shralp are hosting, according to Dean, "Portland's raddest bands and skate/BMX supporters." The skatepark benefit is open to those 21 and over, and is a $6 donation for admission, with all proceeds going towards Portland's future skate parks.
For more information and updates on the skatepark benefit show and Portland's Bicycle Film Festival, check out the new Team Shralp Facebook page, which is listed as a "professional sports team."
xgames.com