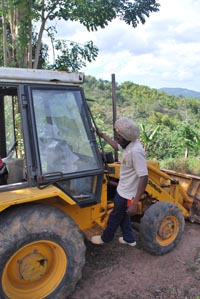 Currently, in the NYC area, there is close to a foot of old, dirty snow on the ground, and freezing rain is pouring down. Clearly, it's not BMX friendly weather. Some of us have decided to endure the cold NY winter, while others have headed South for warmer territories. Cult's Shawn Garrett did the latter, spending time on his banana farm in Jamaica, far away from the snow. But it's not all BMX for Shawn in Jamaica. He's farming his land, developing a concrete skatepark and doing his part to make less of an impact on the Earth. Recently, I caught up with Shawn to discuss the latest haps in BMX far, far away from the NY winter.
ESPN.com: Shawn, how are you spending your winter?
Garrett: I am spending my winter so far very good. I was in Cali, to start filming for the next Cultcrew full-length. I stayed in SD with my homie Jay Thorpe.
This is something I never even thought to ask, but being as how we just passed the holidays, do you celebrate a traditional Christmas and New Years?
Nah, Rasta don't take any part of that. We just give consistent thanks all year round.
Do Rastas have any other holiday traditions during the winter months?
Just preparing for friends who pass threw during the winter months in Jamaica. A lot of flowers bloom and those are used to make all kind of drinks, but only in the winter. In the the summer, there is too much rain and it burns the blossoms. One of the famous drinks is Sorrel and ginger. Commonly, Jamaicans use honey for this drink, but the Rasta don't use that, so we used fresh pressed sugarcane juice to get it just right.
How is your banana farm doing? Are you building any new BMX setups at the farm?
The farm is doing great. I really give thanks. A crazy rain storm passed through late summer after hurricane season and poured so much rain that it flooded some parts of Jamaica. But for me, it helped. It gave my plants more strength to push through the dry season. I just collected the profit from winter 2010 crops and I will put that back into the projects, including the bike park I'm planing to build out of concrete. I just had some people survey another piece of land and it looks like a go.
How long do you intend to be in Jamaica for?
I intend to stay in Jamaica about three months this winter. I go back and forth, cause I'm trying to have a good amount of footy for the Cult video and stay warm. After the vid, I should be back working on the land, setting things up for the summer. It's gonna be a good one.
What's new with you and Cult while you're enjoying the sun in the winter?
Everything is going good over with the Cultcrew. When I was out there last, Robbie [Morales], Neal [Wood] and I went over some specs for a Rasta grip. Robbie's been sourcing biodegradable rubber. So when you're through with your grips and throw them away, they don't make such a wasteful impact.
Anything I'm missing here?
I think that's good. I just wanna make some shout outs: Cultcrew, Robbie, Joe, Neal, Jay Thorpe, Jon Allie, Freks John, the Slave skate house, Rastafari Omega Tafari, PJ Bongo C, The Tafari, Foxbmx. Jerry Badders, NYC Tri-state area. Thank you for looking out for the Ras.
SHAWN GARRETT ON ESPN BMX
xgames.com