With some serious west/northwest swell rolling through the Pacific Ocean this week, Waimea Bay broke yesterday to the normal tune of big drops, big crowds, and big names. But the day took a turn for the worse when a surfer was found underwater on the inside.
According to North Shore surfer, Robin Bond, the victim's name is Derrick Mirikitani, a surfer in his 30s. Bond assisted in the rescue. Mirikitani was taken to Wahiwa General Hospital, not far from the North Shore, where he was reportedly in critical condition yesterday. Today, hospital administration could not release any statements on his condition. However, Bond says Mirikitani is on a ventilator and doctors plan to remove the ventilator to see if he can breath on his own.
"I heard the story," said international big wave hunter Maya Gabiera, who surfed Waimea early, but was towing elsewhere when the rescue happened, "He was apparently dead when they found him, but they revived him and he left the beach with life. From what everyone says, the lifeguards and the ambulance (first responders) did a very good job."
Gabiera explains that she expected the swell to be much bigger, but because of the westerly angle, the North Shore was shadowed by Kauai.
"We were out at first light and there was a little pulse around 7:30," remembers Gabiera, "It was nice waves. It was really perfect, but needed a little more size. And it was very crowded with guys trying to get a surf in at Waimea in case they hold the Eddie (Quiksilver Invitational in Memory of Eddie Aikau) on Wednesday.
A Honolulu Ocean Safety and Lifeguard Services spokesperson confirmed that lifeguards got the victim out of the water yesterday and saw him off to the hospital. They also had no news if he'd recovered.
According to a report from the Honolulu Star Advertiser on Sunday afternoon, another surfer, inspecting the floating board, found Mirikitani underwater, but connected to his leash. Lifeguards on a PWC took him to shore and performed CPR until the paramedics took him to the hospital.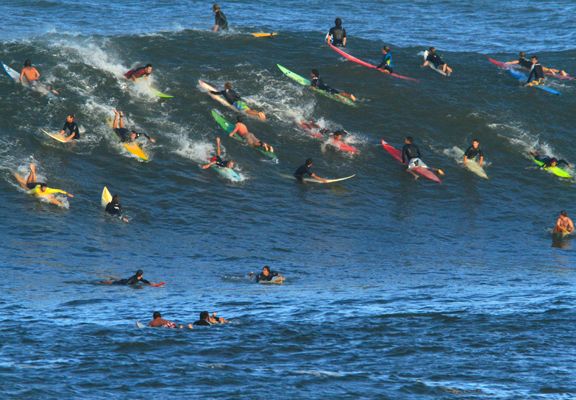 The North Shore swell was forecasted to peek today at 20 to 25 foot before easing tomorrow. Top big wave chasers like Keala Kennelly, Garret McNamara, and Mark Healey were all on it. A potentially bigger swell is on tap for mid-week with a more northwesterly direction.