If you have an appreciation for your face -- especially your teeth -- then maybe you're not the kind of person who sits around thinking of how to propel yourself at high speeds into handrails. Who can blame you, really? You want to go to prom and eat solids -- we get it. However, a growing number of our nation's youth seem to like to get busy in the streets, and for these folks with detuned edges and ground up bases, the Banshee Bungee may be the best thing going.
Maybe you will never hit a handrail in your life, but hey -- that doesn't mean you can't Bungee yourself into other situations, like crowded lift lines, parking lot parties, and ski patrollers.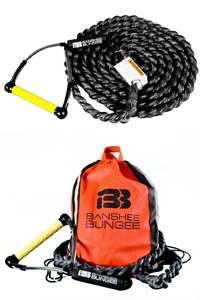 WHAT IT IS:
The Banshee Bungee is a simple idea, really. It's pretty crazy no one came up with the idea sooner. It's simply a super strong elastic band with a water ski rope handle on the end. You attach it to the front of a rail, or hire some dudes from the Home Depot parking lot (Forest Bailey, I'm looking at you) to hold it for you.
You stretch the rope back to whoever thinks it's a good idea to jump onto a handrail with a snowboard, and watch the magic happen as they are bungeed into their desired feature, or over some lunatic death gap. (You've watched Dan Brisse's Real Snow part, right?)
WHY IT RULES:

Cops, old people, and over concerned citizens tend to look down upon snowboarding in the mean streets. Why? Because they hate fun. But the fact that, with the Bungee, you don't have to do as much shoveling, or figure out how to build and transport a giant wooden drop in ramp -- and you don't have to limit your rail selection to one that's in the middle of some sort of hill -- means you have more options for features on which to try out your ninja skills.
That killer bank at your middle school? Cement bowls at a skatepark? How about going up a rail ? All of these are now possible because of the Bungee.
"The Banshee Bungee has opened up so many possibilities for spots, even ones that have been hit before," says team rider and urban assaulter Justin Benne. "Thanks to the Bungee, we're able to stay somewhat low key at a spot, versus having a car tow in, or a drop in ramp. Both of those can draw quite a bit of attention. It's basically mandatory to have one if you're hitting new stuff everyday."
WHERE TO FIND IT:
I'm guessing some snowboard shops that cater to urban shreds have it, but you can also find it online at bansheebungee.com.