Ohio's Kevin Terpening took a gamble a few years ago and made the trek out to California from his native Ohio to try to make a go of the whole elusive dream that skateboarding can be to so many of us that didn't grow up in SoCal. For Terpening, he had the skills and the attitude to hit the proverbial jackpot. Now, with a legitimate amateur team slot on two of skating's most respected squads, Alien Workshop and éS Footwear, Terpening is about to become a household name. We caught up with him to see how he's dealing with all the new hype.
Congratulations on getting on Alien Workshop. Tell us how that all happened. Were you on flow for a long time or did you switch from one company to another?
I started getting boards from Alien when I was about 17 and still lived in Ohio. Then, when I moved out to Los Angeles, I was supposed to start riding for this company that Element was going to do; they were going to start a whole different board company and right when I moved to LA they canned it. It was last minute and I didn't know what to do so I just skated Element boards for a while. Then, after about a year of Element flow, I got back onto Alien and started skating with the team. The dudes from Workshop have always been down but they wanted to see the part that came out when I got fully on éS and I think they were pretty psyched.
How old are you now?
23.
And would you say that you had a huge advantage getting on Workshop since you come from Ohio?
I think it had something to do with it. I know the team manager from skating there before he became the TM. He has only been doing it for a few years but I know he was really psyched to hook someone up from Ohio. And I think they are just psyched that I'm not from Southern California. Those dudes run the whole company out of Ohio so I'm sure that had something to do with it.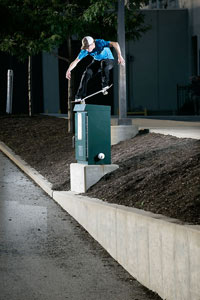 Have you ever been to the actual headquarters in Ohio?
Yeah dude, it's sick. It is in the weirdest place too. It's in the middle of nowhere, this industrial park that's so run down and crappy. So you pull into the parking lot and its down this dead end and you're like, "What? This is Alien Workshop? This doesn't make any sense." And it's this huge warehouse. When you go in they have all the boards on the walls and I guess they've got this house where some of the guys live. It's pretty sick.

I think it's really cool that they still do it out of Ohio and haven't run off to Southern California.
I do, too and I think that's part of why it's still such a unique company. Those dudes chill and skateboarding isn't thrown in front of their face all day every day so they can just do whatever weird stuff they want. I think it definitely helps a lot.

At the actual Alien Workshop do they have aliens and, if so, what do they do with them?
[Laughs] They don't have aliens, but I guess the story behind it is that there was some controversy about an alien crash so maybe they are hiding out somewhere.

Do you think that J. Mascis is actually an alien and they discovered him hence the reason they keep on using Dinosaur Jr. songs in all of their videos?
[Laughs] I think so ... maybe ... that dude looks pretty crazy.

So, would you ride to a Dinosaur Jr. song in a Workshop video?
I really like their music. I feel like it's kind of cliché but that music is good with skating, so whatever. I don't think I would pick one, but if somebody did I wouldn't be mad.

What is your best éS trip memory?
Oh man ... let me see here. Those dudes have been helping me out for a long time. Taking me on trips when nobody wanted to. We've gone everywhere. We went to this little island called Cyprus and it was so sick. It was this little Island with a ton of marble plaza's that are amazing. I have a feeling that place will be blown out pretty soon from everyone going there and skating. It's amazing.

Who is the most intimidating guy on Workshop?
Heath [Kirchart] definitely was, but he retired so it would have to be AVE [Anthony Van Engelen].

.

Is he as rad as he seems?
Yeah he is.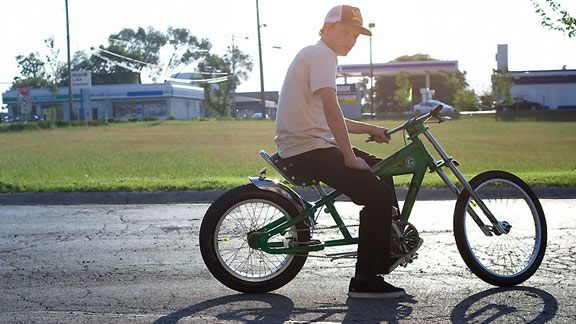 What nationality is your last name? Because it sounds like your great grandparents were pine trees.
I have no idea. I have been wondering that for a long time. Actually my mom told me a few months ago because we went to England and she was like "Oh you have cousins over there." I was just like, I've been wondering what I am for so long. And I'd always ask my grandparents what I am, and they could never tell me.
What is the next project you're working on?
I am doing this video for the Workshop site of footage I have and what I get in the next few weeks. It's going to have an interview in it and some other weird stuff so it should be pretty cool. And after that I think it is going to be a full on Alien Workshop thing going on. Maybe not a full video but I think it will focus on some of the younger dudes and some ams. But it will definitely be something for Workshop.