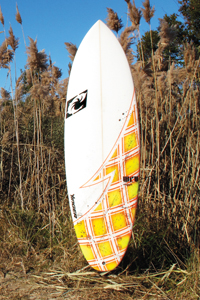 When ESPN Surfing did its end-of 2010 wrap up, I was insistent that we include any entry about the relevance of Channel Island's Dumpster Diver. In the list were the obvious headliners like Kelly Slater and the loss of A.I. Both of those guys changed the way we surf. Not taking anything away from Teahupoo going off the charts last March, I just don't think it affected more than half a percent of the surf populace.
And since I am a man of the people, I felt the widespread popularity of the Double D and the similar designs other shapers came out with had the most prolific effect on every day surfers.
While chatting with Patrick Herrle, manager of the Wave Riding Vehicles factory in North Carolina, recently, he was mentioned that WRV had recently shipped a ton of standard shortboards, known as the Chronic model, to the WRV shop in Puerto Rico.
"You can't sell thrusters in [Virginia Beach] anymore," he told me.
That seems to be the case everywhere, as more and more surfers are opting for shorter, wider boards with more overall foam. WRV's Nugget model outsells the Chronic seven-to-one in Vah Beach.
From a brief browse at this year's lines, the trends for 2011 are very clear. Shorter and wider are in. Foam is your friend. Single concaves are where it's at. And rocker might as well be that band Breaking Benjamin.
The major companies have always had some enticing sleds for micro shreds, but they've never been front and center like this. Like WRV's Nuggets, Rusty has the Dozer and the Choppa. And even though they've always been well "rounded," Lost has the Rocket and the Scorcher.
The bottom line is that the average surf session anywhere in the country is a lot more 1st St. Jetty than Off the Wall.
"We can't build the Nuggets fast enough," says Dave Lewis, general manager of the flagship WRV operation in V.B., "Everyone wants thicker boards, rounded tails, five fin convertibles, wider, and four to six inches shorter than their short boards."
Firewire claims that the Dominator, a full-bodied board with a pulled-in nose is it's most versatile board to date. Super Surfboards is offering its Vapors models even shorter than last year.
And these aren't just summertime grovel boards. Since the fish made its re-emergence in the mid '90s, shapers have been playing with elements of this fun-forward design to create hybrids for small surf. For the average surfer, it was life-changing. But traditionally, these retro models are a disaster in critical waves and while they offer speed, they sacrificed performance. Even if you get yourself flying down the line at your local bowl, all that speed is useless if the board can't handle even the most amateur turn.
Not to mention that for the longest time, surfers would buy anorexic sticks because that's what the pros rode. No one wanted to look like that aging weekend warrior on the fat boy fish.
"It's a combination of the pros making them cool and designers making shapes that look more sexy. Everybody has figured it out now," Lewis explains.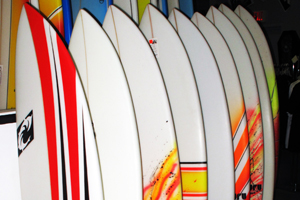 This wasn't an overnight phenomenon. While Channel Islands didn't invent the high performance small wave board, it did have a lot to do with building its popularity -- specifically the open minds of Rob Machado, Slater, and Dane Reynolds, who lent their massive credibility to the Biscuit, the Whip, the Dumpster Diver, and others.
Machado has been free to experiment with what he wants since he left the tour eight years ago (yeah, it has been that long.) Slater had enough titles and confidence to be creative even in heats, and Reynolds -- well, he claims he just doesn't care. The result has been a benefit for all of us. According to Channel Islands, the Dumpster Diver accounted for 20 percent of all C.I. boards sold last year.
WRV pros are riding the Nugget as well, although Lewis jokes that, "(Hawaiian chargers) Mark Healy and Dave Wassel would still have no idea what we were talking about."
The plain truth is that for years, surfers have been trying to ride the same board that Mick Fanning surfs at Snapper Rocks at their own less-than-snappy-rock bottom and beach break. There have been some deviation for different times of the year, but this is a major step in evolution. These are high performance boards that anyone can get waves on at any break. This is not a trend. Unlike their predecessors that smelled a little fishy, these craft will work in a head high wave. They fit in the pocket and make speed, even for the average Joe.