My fiancée Cara and I are huge fans of horrible reality television. Some of our guilty pleasures include MTV's "Jersey Shore," Bravo's "Real Housewives" series, E! Entertainment's "Keeping Up with the Kardashians" and "Kendra," and VH1's "My Big Friggin' Wedding." So, you can imagine just how excited we were when we found out that VH1 would be airing an action sports-based reality show called "The X Life," which follows the chaotic lives of FMXer Jeremy Stenberg, BMXer Cory Nastazio and skateboarder Pierre Luc Gagnon.
Motocross and mainstream reality television actually have a history together, with Carey Hart's appearance on VH1's "Surreal Life" in 2005 really setting things off. Starring alongside the likes of Jose Canseco, Bronson "Balki" Pinchot, Omarosa, Janice Dickinson and Sandy "Pepa" Denton of Salt 'n Pepa, Hart did a good job of representing motocross by keeping a level head and not looking like a complete drunken idiot, which is more than most of his castmates could claim.
Since then, we've seen Josh Hansen grace a few episodes of MTV's "The Hills," as well as Brian Deegan making a cameo on "Keeping Up with the Kardashians." And though it's not as mainstream as the others, James Stewart's show "Bubba's World" on Fuel TV is also another good example of the marriage between motocross and reality television.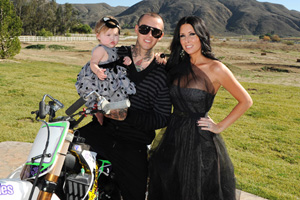 With the first episode of "The X Life" airing Monday night at 10 p.m., I had mixed emotions during the few hours leading up to the premiere. On one hand I was extremely excited to see Stenberg representing FMX to the masses; on the other hand I was a bit nervous as to how the show would portray both Stenberg and the sport. As you know, reality shows have a tendency to shape reality to their liking to make more interesting and dramatic scenarios, but thankfully as I began watching the show, I quickly realized that producer Joe Simpson (Jessica Simpson's father) does a good job of correctly portraying the lives of the subjects.
Episode one of "The X-Life" begins with an extended meet-and-greet session introducing Stenberg, Nastazio and Gagnon and their significant others to the viewers, focusing on the challenges of being -- and being in a relationship with -- an action sports star. From there all three guys head to the last round of the Dew Tour in Las Vegas to compete, and of course ... cause some trouble. I'm not going to get into the specifics of the episode, but I can tell you that the show does indeed have plenty of drama and action to keep your attention for the entire hour.
In my opinion, VH1 hit the nail on the head with "The X Life," and I foresee the show being a pretty big hit. It's way better than similar shows on the network like "Basketball Wives" and "Football Wives." Either way, you can't deny that it's pretty awesome seeing a different light being shined on FMX and action sports in general. If you missed last night's premiere, you can watch the full episode for yourself on VH1.com.