For the past several days the kids down in North Narrabeen at the Billabong World Pro Junior Championships have been throwing haymakers. And in sloppy, junky two- to four-foot surf today it was two very unknown girls left standing. You'd have to be a pretty savvy scout to have made the call that 20-year-old Frenchwoman Alizee Arnaud would be crowned the 2010 ASP Women's World Junior Champion, or that 17-year-old South African Bianca Buitendag would win the Billabong World Pro Junior Championships. Were either of their names even anywhere near the radar? But sure enough, they came, they saw, they crushed.
First, Arnaud's world title. For the first time the pro junior title was to be decided by two events. The upstart from the south of France put in a good showing in October when she finished runner-up to Tyler Wright at the Oakley ASP World Pro Junior in Bali, thus giving her a points advantage going into Narrabeen. And despite being eliminated in the semifinals today, she carried enough points to clinch the title. Her winning moment came when, ironically, fellow countrywoman Justine Dupont knocked out defending champ Laura Enever.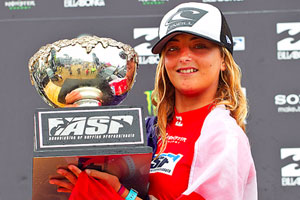 "I'm so happy," Arnaud said shortly after learning she'd won the title, looking for some passable English. "This is what I've wanted since the beginning. Since I was 10 years old I've wanted to be world champion, and to do it in my last event as a junior, what a feeling."
But not to be overshadowed by the moment, Bianca Buitendag steadied her focus and -- as has happened once or twice throughout history -- laid waste to the French. She dispatched of the newly anointed women's junior world champ in their semifinal duel, and then went on to out surf Dupont in the final. At only 17 years old this obviously comes as the biggest result in her burgeoning career.
"I don't know how to explain it," Buitendag would say afterwards. "I really wasn't expecting this. I'm really happy about it and it's the best result of my life. I'm stoked. My Dad has been supporting me since I was little, sitting on the beach and without him nothing would be possible, so thanks to him."
Meanwhile, on the men's side of the draw, they're a heat away from jumping into Round 4. For the Americans and Hawaiians Granger Larson, Kiron Jabour, Alex Smith, Evan Geiselman and Kolohe Andino have been impressive, while event favorite Jack Freestone is still most definitely rolling. Looks like there's about a day and a half of surfing left, and with five more days left in the waiting period contest organizers should be able to put the boys into some pretty decent surf to close this thing out.
Billabong ASP Women's World Junior Championships Final Results:
1. Bianca Buitendag (ZAF) 10.00
2. Justine Dupont (FRA) 9.00
Billabong ASP Women's World Junior Championships Semifinals Results:
SF 1: Justine Dupont (FRA) 11.27 def. Laura Enever (AUS) 8.70
SF 2: Bianca Buitendag (ZAF) 8.37 def. Alizee Arnaud (FRA) 7.56