Matt Margetts has just released his latest self edit to the Internets. The video short features highlight reel footage from the last three season's in Margetts's blooming career. One of the newest additions to the Canadian Halfipipe Team, this going-on-23-year-old Vernon native is part of a small and shrinking contingent of skiers who actively compete in both halfpipe and slopestyle. Margetts caught up with us this afternoon to talk about role models, clowns, and the unwieldy challenge of competing both in and out of the pipe.
ESPN Freeskiing: When I met you a few years ago, you barely skied pipe at all. Now you're a member of the Canadian Halfpipe Team. What inspired you to focus on pipe?
Matt Margetts: The first year of Winter Dew Tour I qualified in both slope and pipe. I skied slope more often but managed to do better in the pipe contests. After the first two Winter Dew Tours I got invited to X Games pipe, which was a dream come true. At the end of that season, Trennon Paynter asked me if I would like to be a part of the Canadian team. I said yes, obviously. It was an opportunity to train with two of the best pipe skiers in the world [Justin Dorey and Mike Riddle] and soak up their advice and wisdom like a sponge. At last season's Winter Dew Tour open qualifier I didn't qualify in slope, so I only had the opportunity to compete in pipe all season. So a lot of my focus on pipe has come by default because there aren't open slope contests anymore.
You're one of the few skiers that even attempts to compete in both slope and pipe. Why do so many skiers only do one or the other?
Because it's really difficult to do both at a professional competitive level. The sport of freeskiing is progressing so fast that it is damn near impossible to keep up in one aspect of the sport, let alone all the others. I give so much respect to people like AJ Kemppainen -- he is so talented in both and consistently does well in every contest.
With all the spotlight that has turned toward pipe, do you think that you'll increasingly focus on it over the next four years?
Absolutely. My dream is to compete in Sochi at the 2014 Olympics. To make that happen I will be skiing a lot of halfpipe over the next three years. I will always ski all aspects of our sport, though, because I enjoy all of it.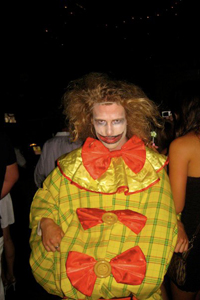 Who are the three people that you look up to most on Earth, and why do you look up to them?
When it comes to skiing, I look up to Justin Dorey the most. Overall he's extremely talented in all aspects of skiing. Over the past few years he has battled his own frustrations on the comp scene and has finally overcome all that. I strive to do the same. Financially, I look up to Simon Dumont because he has proven that with hard work, determination, and the will to never quit you can become a successful business person in this industry and live a wealthy lifestyle. The person who I look up to most and respect most when it comes to overcoming anything, mentally and physically is none other than [Canadian Paralympic silver medalist] Josh Dueck. I have not met a more unbelievable, talented, humble person.
Tell me about the funniest thing that has happened to you in the last six months.
After summer camp every year, Garfinkels in Whistler hosts a Midsummer Night's Dream party. Two years ago I got an opportunity to dress up as the Cheshire Cat and The Big Bad Wolf and be a part of the show. This year I was supposed to come dressed as a huge gorilla, with Josh Bibby dressed as a hunter trying to capture me. My costume didn't make it on time so as a backup they dressed me up as a clown. A full-blown clown! I had the night of a lifetime hidden behind the disguise of my outrageous clown costume. That, and sleepyschusters.com.
For more Margetts, watch "Look On The Bright Side," available for free on the web at Voleurz.com. You can also follow Margetts on Twitter and on Facebook, or visit his site at MattMargetts.com.