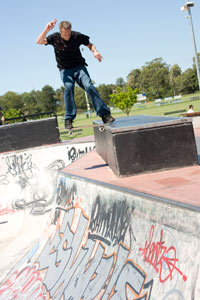 I've never been one for New Years' resolutions and for more than three decades I have refrained. But at the end of 2009 I had my first baby boy and figured I should get my act together and so I made some resolutions for 2010:
-Stop Biting My Nails
-Fix My Green Toe Nail
-Brush My Teeth Before Bed
-Drink More Water
-Relearn Halfcab Heelflips
I was successful on all my resolutions except getting rid of my green toenail.
I haven't figured out what my new resolutions will be for 2011 other than to continue trying to fix the toe fungus. Maybe learn how do backside Smiths? I don't know. While I'm thinking about it I figured I'd ask some of today's best skaters and industry leaders what their resolutions are, if any.
NEW YEAR'S RESOLUTIONS PART 1:
Heath Kirchart: Getting a job.
Ed Templeton: Drastically reduce the time I waste watching TV and surfing the Internet.
Johnny Layton: Quit the cancer sticks!
Alex Olson: Be the first pro skater to become a drag queen and make it on the TV show "Drag Race."
Tony Hawk: Get a TV show actually made, instead of taking anymore b.s. meetings with networks.
Steve Rodriguez: Skate-wise, try to get a plaza-type skatepark built in Manhattan. Family-wise, spend as much time as I can with my newborn son.
Dylan Reider: To delete all stressful things from my life.
Jim Thiebaud: Heal up, skate again and fall down a bunch.
Andrew Cannon: To be on time. I'm always late for everything.
Jerry Hsu: To be less racist towards other skaters of Asian descent.