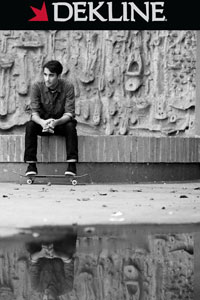 As of today, Chad Tim Tim has officially joined the roster at Dekline footwear. Pro for Element skateboards, Tim Tim had previously been a part of the short-lived Element footwear team. When that program was shelved some months ago, Tim Tim found himself without a sponsor in the footwear department. With the online release of his part in the Element video, "Trio," Tim Tim certainly generated some new buzz; Chad's part stands out as one of the more creative and technical parts of the past year. Now, with the addition of Mark Appleyard to the Element squad, Element has reedited the "Trio" video to release it with Appleyard footage as "Quatro." That video is now on DVD and available in skate shops.
About his addition to the Dekline team and a new home for his talented feet, Tim Tim remarked, "I'm exited about the simplicity of Dekline's shoe line, the diversity of the Dekline team and what it brings to skateboarding. I'm also excited to be part of a core shoe brand."
Tim Tim joins Austin Stephens, Diego Bucchieri and Matt Bennett on the Dekline pro team. Deklnie's current amateur riders are Ben Gore, Nick Merlino, Jordan Taylor and Pat Burke. You can watch Tim Tim's welcome to the Dekline team video here.