What do an LA fashionista, a mod rock star, the sailor from the Village People, an industry homeboy, and Grizzly Adams all have in common? No, it's not an episode of "Glee." It's Greg "GT" Tomlinson. Throughout the years the webcast extraordinaire has channelled the spirit -- or at least swiped the style -- of all of them at one point or another.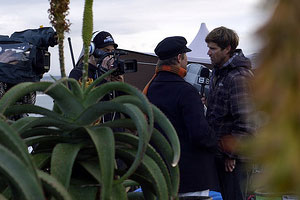 A man that's changed his look more than Madonna, GT's a mainstay on Billabong's webcast crew, and while he may take a lot of heat in the ruthlessly cynical world of surf blogs and bulletin boards, to be fair, his approach to on-beach interviews is usually spot on; candid, objective and fair ... if not a bit creepy at times (note his post heat interview with Jordy Smith today that rendered Occy speechless).
For those that consume copious amounts of webcasts, you've undoubtedly noted that the chameleon typically changes his appearance with every new event, and it usually entails the addition of a queer little cap, or maybe a well-knit scarf, or perhaps a fur-lined parka. But this year's Pipe look, whoa, he put some hard yards in perfecting this filthy-biker-meets-Jim-Morrison ensemble. The hair, the beard, he's outdone himself. Hell, he started this morning with a tight, well manicured ponytail, then somewhere between Slater smashing Florence and Payne acing Fanning it looked like he slipped into the Billabong house and ironed his mullet.
So just where did we pick ol' GT up along the information super highway? Originally hailing from Dana Point, he was one of the masterminds behind The Realm back in the late '90s (a company made famous by their signing of Tom Curren, before later selling out to Costco). He then moved on to help co-create Von Zipper in 2000. A year later, in March of 2001, the sunglass start-up was purchased by Billabong. Hence the GT/Billabong relationship.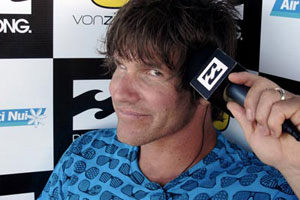 Interesting side note, Von Zipper was the first acquisition made by Billabong. "Certainly our intention is to pursue other product categories within the industry, but we are in no rush," said Paul Naude in a March 19, 2001, article in the Orange County Business Journal that announced the sale. "We will wait for the right opportunity. It's fair to say this won't be our last acquisition." Before the economy crumbled Billabong would go on to purchase brands such as Nixon Watches, Xcel Wetsuits, Da Kine, Sector Nine and a multitude of others.
Anyway, back to GT. If you know him chances are you love him, and if you don't you probably just like to make fun of him. Which is fine. He knows that comes with the territory. He's a hell of a guy, and between webcast gigs you may find him backstage at an upcoming Fart Knockers show.