You may know Ron Pitcher as "that guy with front brakes", the Give D! edits, and soon enough as "the guy who shares a part with Brian Foster in Anthem II." He's a Southern California via Hawaii military child and he's never seen the first Anthem video. I asked him about that as well as what it's like to have people refer to your riding as "gimmicky." Read on to hear more from the gimmicky shredder from North County, San Diego who is unschooled in the fine art of late '90s BMX videos.
ESPN.com: Hey Ron, compared to most, you have a slightly different riding style. When you were starting to ride, who and what inspired you to ride the way you do?
Ron: Pretty much every rider I saw in Ride BMX magazine or any videos I saw. My aunt gave me a RideBMX when I turned 12 and I just got really excited about it. I just absorbed everything I could and I just took parts of riders style and tricks I liked I guess. As I've gotten older I just kinda moved more towards an "old-school" style of riding and mixed it with a little of my new-school style. I've gone through every style already: brakeless pegless, pegs and rails, gyros, just rear brake, one peg, and finally pegless and front brake only. I just have fun and try to do stuff that gets me and my friends psyched to keep shredding.
How does it feel to have footage in "Anthem II"? Was the original Anthem video popular with you guys in Southern California?
Sadly, I've never seen Anthem. Everyone just told me it was like "Nowhere Fast" was for us in California and that's a classic! I'm hoping the first Anthem will be on the "Anthem II" DVD and I won't feel as bad for being in the video. I didn't expect it. I just thought Stew was gonna use my footy for another Props. If I knew he was gonna use it for "Anthem II," I would've done more bangers. Just to be in a video like that with riders of that caliber is a big honor.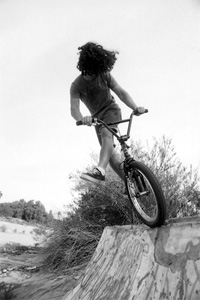 I can't believe that, but I also think it's kind of cool, like you had no idea of what to expect or what "level" it should be, whatever that means.
Yeah. I definitely didn't know what to expect. I was watching the trailer when it came out and in my head I was saying, "Take my clips out, Take my clips out, Take 'em out Stew!" I guess it's the same way when you go to the skatepark and the older guys scoff at the kids because they don't know the name of a trick or that they think they're the first kid to do it. But it's just good to know your history and BMX/freestyle has an amazing history. I guess I got some watching to do!
Lucky for you, and others it will be on the bonus disc of "Anthem II." Moving on though, front brakes play a big part in your riding style. How long have you ran them and what was the motivating factor in doing so?
I think I've had them on for about a year or two. I just like the old school style of it. It definitely takes some commitment to learn a lot of the basic tricks, but it just has this crazy steeze to it that you can't get from jamming your foot in the tire. I already did that and it just got kinda boring for me.
Not that I think this but have you ever heard anyone dismiss your riding as gimmicky?
Yeah. Mostly younger kids or riders the same age as me trying to be cool or something, I guess. I guess doing tabes, tiregrabs, and candybars is gimmicky but I just though it was old-school. Personally I think riding foot tall ledges, bouncing off trampolines, and flipping twirly tailwhip corkscrews are gimmicky but whatever. Just do what you want.
I know that a while ago you left The Take, do you have anything else brewing?
Yeah that was like a year and a half ago. When I left The Take, Ryan (Sher) hooked me up with a Subrosa DTT. We've always been friends and I didn't really even need a frame but he was cool enough to hook me up. It's never been official or that I was on the team or anything but I just ride what I'm into. I'd rather ride for no one than have a bunch of lame sponsors or support something I'm not fully into. But either way, it doesn't matter because I'm still gonna be riding either way.
What's next, any plans?
Ride as much as I can, work and save up to get a van so I can drive South to ride with the homies more. Stay alive.