Toy Machine's "Brain Wash" video is in shops now and though 2010's Skater of The Year, Leo Romero's ender may have been the most hyped part of the video, there were also more than a handful of surprises within. One surprise for viewing audiences is the standout part from Toy Machine's latest edition, the relatively unknown, Jordan Taylor. From technique to trick selection, Taylor's part stands out as a refreshing change from the rest. His style is reminiscent of mid-'90s skaters but with the gnar factor turned up for 2010. Here's a quick look into the mind of the Machine's latest weapon.
Do you think your family wished you were a girl?
Well, how do you know I'm not, Mike?
Well you have two girl's names, I take that as a strong sign that your parents wanted a girl.
I think they were going to name me Olivia Wellington Taylor. That's more than a sign.
Your younger brother skates and they named him Logan. That could be a girl's name, too.
What girls have you been hanging out with?
None, just you ladies.
Ah, that's messed up.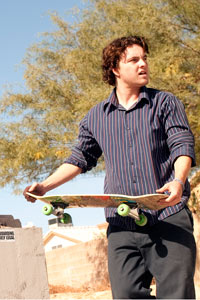 So how long were you on Toy Machine flow before you were bumped up to full-am-status?
Am? I thought I was pro.
Not even close bro. Ahhh.
How do you get on flow, kids always want to know this?
Go eat some hay down by the bay, I just may.
What's wrong with you?
What are you talking about. I'm on Toy Machine.
Tell those same kids how you get bumped to am from flow, what all did you have to do?
I guess just find a company that your down for and give it what you got. Hope for the best!
It's hard to get on Toy Machine, how did you pull it off without anyone knowing who you were?
I have no idea. It just kind of worked out. I'm psyched for sure, though.
What did your parents think of your first video part?
I think they were psyched. They show everyone who walks into the house. It's kinda awkward.
Do they still want a girl now that they've seen your video part in "Brain Wash?"
I just asked my mom and she gave me a funny look. Maybe she does ...
Who's the best person on Toy to travel with?
Everyone's tight. It's cool traveling with the whole team. The South West tour was so fun.
Who's the worst?
None, they're all gangsters.
What are your plans for 2011?
Get my kicks before the whole thing goes up in flames.
Tight.
Yep.