Last night's King of Style Big Air in Stockholm had an unexpected finish with the Frenchman Kevin Rolland taking the top spot. The pipe specialist and reigning Winter X superpipe gold medalist outjumped the Who's Who of big air to pull down his first major victory in the discipline.
The outcome surprised Rolland as much as it did anybody else. "Youuuuhouuu [sic] just won the King of Style," Rolland said in a Facebook status update shortly after the event, "I can't believe that."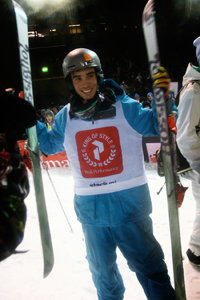 Rolland and Swiss wunderkind Elias Ambühl rolled through rounds of the head-to-head, single elimination tournament. Rolland with a double cork 1260 mute grab, and Ambühl with a double cork 1080 mute grab.
Trick selection proved a major strategic element in this contest. Starting at the round of eight, each competitor was allowed only one repeat use of each trick. Having already used up both double cork 1080s, Elias Ambühl attempted a double cork 1260 in the one-jump final round. Rolland walked through the open door on the next jump, keeping his feet under him on a flat 3 Japan grab.
The single jump format brought about a few more surprise outcomes in the contest. American favorite Bobby Brown got knocked out early after having landing trouble in the round of 16. The real sparks flew in the round to decide third and fourth place, where Bene Mayr's picture perfect double cork 1260 mute grab pushed Norwegian Andreas Håtveit to go for switch 1440.
Contest Summary:
Round of Eight
(
bold
indicates skier advanced).
Bene Mayr, double cork 1260 Japan
Simon Dumont, double cork 1260 mute
Elias Ambühl, double cork 1080 mute
TJ Schiller, double cork 1260 mute
Jon Olsson, double cork 1080 safety
Kevin Rolland, double cork 1260 mute
Andreas Håtveit, double cork 1080 octo
Jacob Wester, double cork 1260 mute
Semifinal Round
Bene Mayr, double cork 1260 mute (fall)
Elias Ambühl, cork 7 mute
Kevin Rolland, double cork 1080 Japan
Andreas Håtveit, double cork 1260 mute (fall)
Consolation Round
Bene Mayr, double cork 1260 mute
Andreas Håtveit, switch 1440 mute (fall)
Final Round
Elias Ambühl, double cork 1260 tail (fall)
Kevin Rolland, double cork flat 3 Japan
King of Style Final Standings
Kevin Rolland
Elias Ambühl
Bene Mayr
Andreas Håtveit