Welcome to HeadSpace, a new bi-monthly column where we dig deep inside the heads of shredding's luminaries to find out what really goes on behind those goggles. No "What's your favorite color?" here, folks -- because obviously Danny's would be black (unless "metal" is a color).
Norwegian pro Danny Larsen is known for many things: that hair, those headbands, leather jacket methods over the jaws of hell, and solid video parts with The Pirates crew since 2006. When all of these apple-cheeked snowboarders dress up as pirates for their video openers, Larsen looks 100-percent legit with his metal-brigand hair and Viking heritage. Plus, he's probably the only one providing his own wardrobe and dagger for these shoots.
Another thing that surely sets Larsen apart is his devotion and approach to his art, all informed by the kind of cheeky intelligence inherent in insisting that his age is "666." In it you'll find an octopus with a skull face, a rat with antlers or maybe a dark owl scowling down from a Masonic pyramid. If he's not traveling the world with his board for K2 or Spy, learning snowboard tricks from his wife Gro, playing with his pet rats Ea (fat) and Nihm (fast) or playing guitar, Danny's probably pounding black instant coffee and getting busy with pen or paint. Since his output is often twice as black as that sludgy coffee, we hit Larsen up at his place on the outskirts of Oslo to find out more about his own dark arts.
ESPN: How many skulls do you think you've drawn in your lifetime?
Danny Larsen: That's hard to say -- you might have asked me how many inches I have snowboarded in my life. I wanted to answer "enough" but I don't think that's true, so I'm going to say "more than plenty," and there are more coming. I have no idea what it is about skulls, but I just love to draw them and I think they look great.
Is your art good?
I'd like to say so. There's a lot of heart, thought and work behind most of what I do. I have heard from others they like it, too. Naturally some don't like it at all: people with a confused look on their face that would, without a doubt, say stuff like, "You're having an art interview? But you just draw skulls and demons and stuff!" But I've had my drawings displayed in galleries in Paris, Vienna and Moscow -- that's got to count for something, right?
How many years have you been creating art semi-seriously?
I'll let you know when I start...
What do you think the three most common misconceptions of Danny Larsen are in the U.S. and why?
1.That I am some kind of Euro. Not true: I'm Scandinavian. "Oh, but Scandinavia is in Europe!" you might say if you own a map, as such. But I don't call Canadians "Americans" even though they live in "America."
2.That I'm evil because I listen to black metal. That's ignorant music-ism based on stereotypes, and I will not stand for it.
3.That I pop lower than Mikey Leblanc just because I wear a heavy leather jacket.
"Ballpoint Art 4 Life." Discuss...
Use what you got is all I've got to say. Well, not all because that would make a boring interview, but that's my point of view. Some people are snobby about art. They expect it to be produced with pencils and brushes, technically complicated, pretty and so on. Nothing wrong about that, but it's hard for many to relate to.
Ballpoint art on the other hand is something most of us have done during endless hours at school while daydreaming about better ways to spend a Wednesday afternoon. That's the beauty of it: everyone does it; it just feels more alive and spontaneous and everyone can relate to it.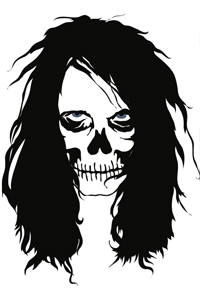 How would you describe your approach to artistic expression?
I'm for diversity. So I'll try to change it up every now and then to keep it fresh. As of now I have one acrylic painting, one oil painting, one quill pen drawing and most likely five Illustrator drawings I'm working on. But I guess the one thing that is common for them all is that they are all inspired by music.
So when you sit down to draw, what do you do to set the scene and get your evil juices flowing? Any, um, rituals?
I have to have the right music to do a drawing. There is no way I can do any kind of drawing without having music that gives me the same feeling as I'm trying to put down on paper. So, if I want to draw something scary and dark I'll listen to black metal. If I want to draw something colorful and trippy, I put on a '60s psychedelic playlist. Oh, and I drink silly amounts of coffee while working... That messes with my head a bit, I think.
Now that people are starting to use your art on t-shirts and CCCP skate decks, have you noticed any change in your attitude, like, this will never sell, so why bother?
Not at all. When I get some kind of commercial assignment I will naturally try to give them something that will sell. But at the same time, I want to see if I can push it, to come up with something they are gonna refuse right away. Not sure why -- it usually means extra unnecessary work -- but I love to do it. I love to get that "Are you f-----g serious?!" e-mail back. But sometimes I'll get the thumbs up and a "Great job!" e-mail back. That's how I know I didn't try hard enough. You have to offend at least some with your artwork, right?
Most of your art is super dark but always has a real clear sense of humor. Do you start dark and end funny, or does it all come into your brain at once?
I don't like to take stuff too seriously, and I see a lot of humor in what others might find scary. So it usually comes to me at the same time. It's just connected somehow and I love to mess with people through my artwork. Like make it look all scary and dangerous when it in reality it is as innocent as watching dolphins and listening to Celine Dion songs played by pan flutes.
Outside of art and out in the real world, what's the darkest, most evil thing you've ever done -- and do you regret it?
I have always tried my best to be nice to everyone around me. I'm not evil at all; I get all that stuff out by listening to evil music. If I have done something evil I'm sorry, but I live by a "no regrets" rule.
Want more Danny Larsen? Check him out in the newest Pirate Log on Oslo, with behind the scenes footage from "Hooked."