Emotions were running high in the T Bar line on Breckenridge's Peak 8 on Wednesday as an enormous blob of people waited for it to open for the season, giving us access to more than 20 inches of fresh powder in the upper bowls. November in Colorado has not been like this in many years, and a weekend storm pattern pounded Steamboat, Copper and Breckenridge with huge snowfall. Copper is already reporting one quarter of their average annual snowfall. While Breckenridge reported 26 inches from Monday to Wednesday with the huge 20-inch total from 6 a.m. Tuesday to 6 a.m. Wednesday.
Winter Park opened on Wednesday with 13 inches of new snow and Vail is scheduled to open Friday. Keystone, Breck, Copper, A-Basin and Loveland are all open for the season.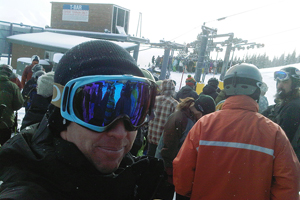 I had planned a quick trip to New York to see some art and get away during the fall mountain doldrums, so I missed the first few days of the storm. But when I reached Denver on Tuesday evening all roads to Summit County, where I live, were closed. Which began the classic combination of emotions -- I knew how good Wednesday morning was going to be while I was stuck waiting, endlessly refreshing the Colorado Department of Transportation's website. At 10 p.m. Tuesday, after six hours of waiting, the black line that had been representing I-70 through the Eisenhower tunnel turned to red and I jumped back in the car and headed for the high country.
I took a couple of early laps on the lower lifts while avalanche bombs shook the entire resort, then headed for the T Bar line. And what a line it was. I had been hearing stories for the past couple of days of all-time early season conditions as the local skiers, including Tanner Rainville and Adam Delorme, had been skinning and skiing all over the resort. So I knew that when the ropes dropped I should fight for the front of the line and somehow I hopped over a massive pileup and quickly found myself at the top of Horseshoe Bowl. That first run, waist deep with each turn in the proverbial white room was just a taste. It was surely a harbinger of more frustration, more anticipation and more payoffs to come this season.