Over the past few years, the economy has hit ski resorts harder than a big winter storm, so it's always nice to see a place that's trying to turn things around. Montana's Teton Pass Ski Resort, closed since spring 2009, is getting a new start this winter thanks to an infusion of cash and low-key Kiwi sensibility to terrain that owner Nick Wood, a native New Zealander, says rivals a small-scale Squaw Valley.
Wood and crew have cut 12 new runs, adding 200 new acres to an existing 114. It's not a big place, but it's steep enough: 40 percent of the runs are advanced or expert and an open boundary allows access to more extensive backcountry terrain. The mountain gets close to 300 inches of snow a year.
Wood, CEO of Distinctive Holiday Homes, a luxury vacation club, first heard about Montana skiing from a man who stayed at one of his hotels in Fiji. "He kept telling me how beautiful Montana was," Wood said. Wood had been looking at ski areas around the world, including in Japan, when he stumbled on a single internet listing for a ski area near Choteau, a small town in northwestern Montana near the Rocky Mountain front, called Teton Pass (not to be confused with the same-named pass near Jackson Hole, Wyoming).
He visited last spring to check it out. "There was snow up to your chest in the car park," he says. He spent $270,000 to buy the resort and has been cranking away to get the place opened by Thanksgiving with a planned $3.5 million on improvements.
The goal is to have an unpretentious spot that reflects the no-frills, no-crowds attitude of Montana. "I can't stand waiting in lift lines myself," Wood said. Ticket prices are low ($29) and opening day will be ski-by-donation, with proceeds going toward a new community pool.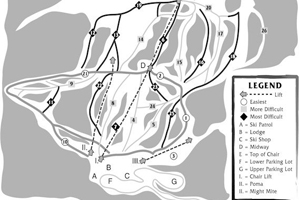 Next season, even more lift-served terrain is on the horizon, with another two lifts planned to increase the vertical by 700 feet (up to 2,200 once the new lifts are built). One lift will run to 500 feet below the top of the summit, opening up two central bowls and additional hikeable terrain off the ridges.
He's brought in ski-industry pros to help revamp the place, which includes a new terrain park with rails, walls and boxes all made from recycled timber. There's also a gully they're advertising as a natural halfpipe.
The owner is still waiting to test out the mountain's potential for himself, but he plans to be right behind the lifties and ski patrollers getting first tracks on opening day. For now, he's just watching the snow fall. "I'm looking out the window," he said from the resort recently, "and it's pissing snow at the moment."