Think all that has happened in the past few weeks will detract from the Vans Triple Crown excitement? Think again.
The North Shore season is still one of the most highly anticipated times of year. The Hawaiian people welcome waveriders and spectators from all over the world, as Pacific energy explodes onto every reef along the famed Seven-Mile Miracle. The icons of our sport battle for every yawning cavern and there's shave ice and pupus all around.
Check the full Triple Crown Preview here » .
Sure, by late December it may be enough with all the cameras, contests, houses full of Southern California sales directors, and traffic backed up on the Kam Highway, but right now locals, visitors, and fans (watching every ounce of webcast action while their bosses aren't looking) are fired up with anticipation for the Reef Hawaiian Pro at Haliewa, the O'Neill World Cup of Surfing at Sunset, and the ASP World Tour 2010 conclusion, the Billabong Pipeline Pro.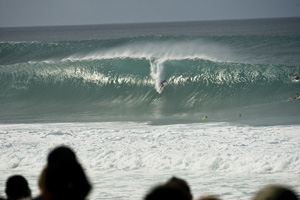 Today starts the waiting period for the Reef Hawaiian Pro. Last year, local boy, Joel Centeio took this event. There's certainly no shortage of anticipation on the North Shore, especially not with Surfline calling for a rapidly building northwest swell to hit on Sunday, with faces predicted to top ten-foot by the afternoon. But we are told that Sunday will by a lay-day, as many competitors are traveling to Kauai for Andy Irons' hometown memorial.
Bud Light brings an interesting side bet to the Triple Crown this year with the "Clash of the Legends," where superstars, Mark Occhilupo, Tom Carroll, Tom Curren and Sunny Garcia will duke it out for a $20,000, and to remember old times.
This season, ESPN Surfing will have our esteemed global photojournalist, Peter 'Joli' Wilson capturing most of the competitive action and our "Cuz on the Scene," Daniel Ikaika Ito, bringing you event coverage. Get serious. The Vans Triple Crown is here.