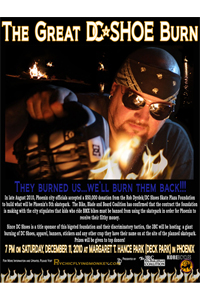 Phoenix, Ariz. area BMX local Jason Ryan, of The Bike, Blade and Board Coalition, has decided to take a rather unique stand against the construction of what will be Phoenix's fifth skatepark. In December, Ryan is planning a "The Great DC Shoe Burn" to protest the barring of BMX bikes from a skate plaza funded by The Rob Dyrdek Foundation.
The plaza, currently under contract by the City of Phoenix, is, according to Ryan, "Being funded with a $50,000 donation from the Rob Dyrdek/DC Shoes Skate Plaza Foundation." "The Bike, Blade and Board Coalition has confirmed that the contract between the foundation and the City of Phoenix states that the city must ban kids who ride bikes from the new skatepark when it opens," he added.
Board member Geoffrey Taylor, of The Rob Dyrdek Foundation, was quick to answer Ryan's claims. "First and foremost, this is the Rob Dyrdek Foundation, and while Rob embraces all action sports, his initiative is for skateboard plazas. And that's where his effort and our dollars have been designated to," said Taylor. "Secondly, we're in the business of funding and in some cases building skateparks, which is a completely different animal than building a BMX facility, in terms of design. If you take a BMX bike onto a skateboarding facility, it can be very destructive. And that is a concern when we're talking about the amount of time and money we're putting into these facilities," he added.
Although Dyrdek's skate plazas are technically designed for skateboarders, the obstacles within the plazas serve similar needs to BMX street riders, who utilize ledges, stairs and handrails in much the same way as street skateboarders. To date, the Rob Dyrdek Foundation has aided in the development and construction of skate plazas throughout the U.S., including the world's first legal skate plaza, located in Dyrdek's hometown of Kettering, Ohio. Bicycles are not permitted in any Dyrdek Foundation funded skate plazas.
"It's just really an apples and oranges situation, and one of the things that Rob [Dyrdek] always preaches is that action sports is not an all-you-can-eat buffet," adds Taylor. "If you do something for skateboarding, you're doing it for skateboarding. And if you do something for BMX, you're doing it for BMX."
Rather than appeal the decision with the City of Phoenix, Ryan decided to take his protest to the site of the planned skate plaza. "In light of DC's title support of this foundation and their discriminatory activities, The Bike, Board and Blade Coalition will be hosting a giant burning of DC shoes, apparel, banners and stickers at the site of the planned skatepark," said Ryan.
While DC Shoes is responsible for part of the donation to fund the new skate plaza, the brand is not the sole donor of funds to the park. DC Shoes is also not an anti-BMX brand. Since the late '90s, DC has sponsored a number of respectable BMX pros, including the current roster of Dave Mirra, Edwin De La Rosa, Chris Doyle, Corey Bohan, Daniel Dhers and Allan Cooke, all of whom do not advocate shoe burning in any form.
"As a foundation, we support all the efforts of the action sports communities, including the BMX community, to galvanize, in the way we have for skateboarding, to build their own facilities. And we would certainly be mindful and respectful of any limitations placed on those facilities regarding skateboarding, should there be any," adds Taylor.
According to Ryan, BMX bikes are not legally allowed in any of the four public skateparks located in Phoenix. "Phoenix BMX riders have attended city council and parks and recreation board meetings, endured extensive talks with parks and recreation officials, written letters and e-mails to officials and staged protests at Phoenix skateparks only to be wholly ignored by the city leadership," he says. A park designed specifically for BMX bikes is located in nearby Chandler, Ariz., which does not allow skateboards.
Ryan still advocates the shoe burning as protest. "I've got a pair of DC's for which I paid $60 that I'm going to incinerate because now I'm thoroughly disgusted at the sight of them," he says.
xgames.com