Aaron is an underground backcountry ripper who bagged more sick shots this season than a flu specialist. He took first at the North Face Masters Kirkwood stop last spring, clinching the overall TNF Masters title, and made a solid showing in Airblaster and K2's movie, "Respect Your Elders." The young Montana native has plans to make his own video this winter co-starring his older brother, Jason, who -- btw -- rips too. We called A Rob to find out about growing up in Montana, not hitting rails, and fighting grizzly bears.
What's up buddy, I heard you and your brother are making a movie!
Yeah, Jason and I are making a movie with our friends Sam Tuor and Leland Macnamara -- [one] that focuses more on the lifestyle. We're going to be cruising around and working with S.O.S -- just shredding with kids and having fun cruising all over.
Are there gangsters in Montana?
There're a lot of thugs in Montana. I have no idea why.
I've been to Billings. That place is like a bad episode of Cops.
[Laughs] Yeah, I've never been there, but I imagine that's the hardest town in Montana.
So why did you guys decide to make your movie more documentary-style and not just snow porn?
This year I was coming back from Alaska, and thinking about "Respect Your Elders" and imagining where a movie like that could go. It was so rad that all of us young kids were out with the older guys like that. There was so much interaction between us, and that's what snowboarding is about. We want to show the emotions that go along with snowboarding.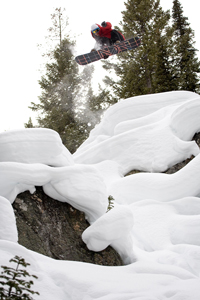 What was it like filming for "Respect Your Elders"?
I filmed with them at Baker -- I got to go out with Temple Cummins for like nine days. That was super sick, he rides super fast all over the mountain. I was stoked on the segment, but I would have liked to see more of the interaction between us.
Can you hit handrails?
I would just rather jump over a handrail then try to slide down it. I use to do them back in the day, but I fell enough, and smashed my shins enough to be totally over it.
Did you wear a do-rag like JP Walker?
No, but I did in Chile this summer for a few days on the mountain.
Did you cut the sleeves off of your t-shirt and wear wrist bands?
No, but I took my shirt off a few times.
Your brother told me he gets way more girls than you.
[Laughs] I don't really believe that because he has an amazing girlfriend that he lives with. And there's tons of beautiful women in Chile -- they love gringos and I love them. I don't think he parties harder or gets more girls.
Could you catch a fish out of a river with you bare hands?
[Laughs] I mean, if it was in the right spot I probably could.
Do you think you could beat up a grizzly bear?
Maybe with a few friends, but not solo. I would just run. I could outrun a grizzly bear I think. Maybe I would fight him off -- there was a lady on the news recently who fought off a bear with a six pound zucchini from her garden.
I think your sister got mad at me for making fun of your brother for being from Montana.
My sister? Maybe my Mom, she's all over the Internet.