Sweden swept the podium in the International Freestyle Ski Big Air at the Relentless Freeze Festival, held at Battersea Power Station in London Sunday night. Jacob Wester claimed first place, Jon Olsson returned to freeskiing form for runner-up status, and Henrik Harlaut took third place.
The Swedes celebrated by throwing goggles, bibs, hats and jackets to the cheering crowd amidst the spray of Wester's champagne. Wester took home a check for 4500 pounds, Olsson won 2350 pounds and Harlaut received 1250 pounds.
"I couldn't feel any better," Harlaut said.
Australia's Russ Henshaw, the 2009 winner of this event, settled for fourth place and 600 pounds after falling on the landing of his switch double cork 1260 in his second jump in the finals.
"I tried to step it up and went really big," Henshaw said minutes after his fall. "I kind of punched through the landing and hit my head really bad. I'm kind of in a bit of pain right now."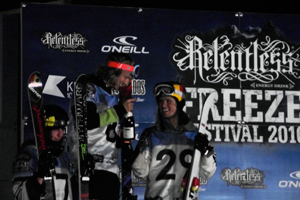 After an opening round, 16 skiers were seeded for a head-to-head quarterfinal round, with the best score from two runs determining who would advance. The same format was used for the semis.
American Bobby Brown was eliminated in the semifinals after failing to land his signature switch double misty 1260 in his two attempts and settling for two scores of 25. He had advanced through the quarters with a double cork 1080 with a mute grab and a double cork 1260 with a mute grab and a switch landing.
On Saturday, John Symms predicted that Brown would come out on top, with Henshaw in second, Ambuhl in third and Harlaut fourth. The luck of the draw was against Symms, as his favorites were destined for showdowns in the early rounds due to seeding.
Double cork 1080s were the move of the day, and Harlaut used one of those with a grab to score an 87 and move past Brown into the final.
"I felt bad for [Brown] because I wanted him to land to have more of a battle, but it was obviously super good because I wanted to win," Harlaut said.
The skiers kept raising the bar with each round of competition. Wester had the highest score in the semifinals, earning a 91 for a double cork 1260 to knock out Switzerland's Elias Ambuhl and his 88 for a double cork 1080 with a mute grab. Olsson used a double cork 1080 with a truckdriver grab to score a 90 and eliminate Norway's Andreas Hatveit. The 2008 Freeze Festival ski champion, Norway's PK Hunder, was a crowd pleaser with huge airs, but lost to Henshaw by just two points in the semis.
"It was amazing," Henshaw said. "I'm glad I got top four. Everyone was doing so well, throwing down gnarly tricks. It was crazy."
Harlaut had the highest score after the first run in the final, scoring an 89 for a switch double cork 1080 with a mute grab. To up the ante, the commentators didn't announce scores for the final jumps to the crowd.
Wester scored a 91 for his double cork 1260 with a mute grab, Olsson received a 90 for a double cork 1080 with a truckdriver grab, and Harlaut's 89 kept him on the podium.
For Olsson -- who has put his freestyle on the back burner while pursing a FIS ski racing career -- the podium finish was a surprise. "I came here thinking I was going to try not to embarrass myself now that I'm more of a ski racer," he said. "Being on the podium is kind of unreal but it's really sweet. It was just nice to feel that I didn't suck at jumping. And I had a great time, which I guess is the most important thing."
After Olsson's failed attempt at a triple cork 1440 in New Zealand this September, his podium finish might have him going back for more jumping. "It's really addictive," Olsson said Sunday night. "For me, trying to have the time to be on the top level in both sports is kind of impossible. So now when I do well here, all I want to do is jump. But I know that to reach the top of the World Cup in ski racing I really have to put in time there. I'm kind of torn between the two."