Last week Powder Magazine opened voting for its annual Powder Reader Poll. To weigh in, readers simply submit the names of their 10 favorite male skiers and their five favorite females at the Reader Poll site on Powdermag.com. I filled out my ballot this morning. Here are my picks, ladies first.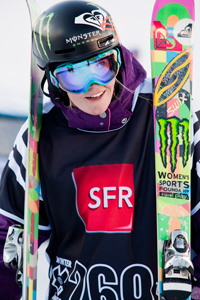 Females:
Sarah Burke
Last winter, her absence from the Superpipe podium ended a three-year run and stood as one of the biggest surprises of Winter X. She's the toughest, hardest-working woman in freestyle skiing. And her career's influence on the sport is a major reason that there are any girls capable of competing against her today.
Kaya Turski
What Burke has done for women's skiing in the halfpipe, Turski is doing on the slopestyle course. She won Women's Slope at the last Winter X, Euro X, and swept the Winter Dew Tour the previous year. As far ahead of the pack as she is, she'll keep dominating this season.
Lindsey Vonn
She won the Olympic Downhill. She took bronze in the Super G. She graced the cover of Sports Illustrated. And she did it all while fighting a brave battle with shin bang.
Ingrid Backstrom
The go-to for the best women's ski movie segment of the year, Backstrom has turned up the number-one female in Powder's Reader Poll every year since 2007.
Keri Herman
Another slopestyle standout. Keri can hit big jumps, throw big tricks, and make it look like it's no big deal.
Males:
[+] Enlarge PhotoNate Abbott/Shazamm/ESPN ImagesSammy Carlson

Sammy Carlson
Sammy has made so many impressive segments in so many ski movies, and stood on so many major podiums, that it's difficult to believe he's only 21 years old. Whether backcountry booters, park kickers, cliff drops, rails, or mini golf lines, Sammy is among the best at everything he does on skis. And he invented a new triple flip this summer. Pretty good.
Jon Olsson
He's invented just about every trick in today's compulsory slopestyle repertoire. He's won more Winter X Games medals than any other skier over the course of his career. And he's kept himself at the top level in freestyle while seriously working on breaking into Sweden's Olympic ski racing team. There have been a lot of great all-around skiers in the past; but there's never been one like Olsson.
Sean Pettit
His showing in In Deep won him the Powder Video Award for Best Male Performance in 2010. This year's segment doesn't fail to impress either, even after taking a week's "vacation" to watch Winter X last winter.
Sage Cattabriga-Alosa
Much like Ingrid Backstrom, Sage has wound up on the top in more than his share of Reader Polls. This year, Sage's footage constitutes it seems like a third of TGR's Light The Wick — the good third. Plus, the dude looks just like Alf.

[+] Enlarge PhotoJ. Hadik/Freeride World TourCandide Thovex

Candide Thovex
When Candide broke his back guinea-pigging an incomprehensibly massive step-down at his own contest in 2008, I thought that his body had been brutalized enough that he might call it quits — at least on the gnarly stuff. After a full year off and several surgeries, Thovex finished the 2010 winter atop the Freeride World Tour standings. Shows how much I know.
Tom Wallisch
Who do you consider to be the best park skier in the world? Ask that skier who the best park skier in the world is, and he'll tell you it's Tom Wallisch.
Bobby Brown
He unveiled never-before-seen tricks at Winter X Big Air. He's the first skier to win two gold medals at one Winter X. He stomped the first triple. As radical as Brown's career is, it's short length up to now is the only reason that his name isn't higher up this list.
Tanner Hall
Tanner's been on the sidelines for a minute now, thanks to a massive knee injury in 2009. If the upcoming winter ends up another spent recovering for Hall, he'll still belong on this list next year.
Chris Benchetler
If it wasn't for Chris Benchetler, there wouldn't be a skier left in Mammoth.
David Duval
He's actually a snowboarder. But he's also a golfer. So in terms of edge, he averages out to a skier.