Chad Phaire is part of the new breed of NYC street riders, bringing speed, style and a no pegs approach to the streets of the greater five boroughs. Earlier this year, Chad was added to the Cult Connect team, and in the time since, he's fired out more than a few progressive Web edits. Because Chad's style isn't the "typical" style of riding in NYC, and because Chad is always down for the cause, we caught up to learn about his riding roots, being added to the Cult roster and the NYC scene in general. Here's Chad.
Name: Chad Phaire
Age: 22
Hometown: Harlem, NYC
Sponsors: Cult, MH Inc., 718video
Soundtrack: Dwele, Lykke Li, Drake, Lauren Hill, Tanya Morgan
Favorite Video Part: Garrett Byrnes' part in the Little Devil video was bananas, as well as Van Homan. I can't forget every video part Edwin De La Rosa has ever had, including his "Reincarnation" bio.
Favorite riding Spot: Brooklyn Banks
ESPN.com: What got you into riding?
Phaire: Life. The day my father taught me how to ride a bike, I never stopped. I started doing tricks on it and thought I was the only guy in the world doing what I was doing on a bike, until I was introduced to a BMX magazine.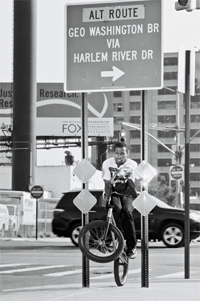 How did you get hooked up with the Cult program?
Well that's a long story. I had some clips in the 718video that never got used. I decided to put it together and send it to Adam from The Come Up. He posted it on his site, and I got a call the next day from Robbie Morales. To say the least, I was more then grateful to get a call from him asking if I was down to ride for the team. I never told him this, but I thought it was a joke that would never happen, so the conversation was a little short. Sometime you can put your heart into something for so long, you forget that it will pay off. He told me he would be in town a few weeks and he wanted to meet me. When he showed up, I knew it was real.
What's the NYC BMX scene like?
It's the best scene there is, point blank.
Where do you ride on a typical basis?
Due to the fact the Brooklyn Banks are closed, it has hit NYC hard. Typically, you can catch me riding the skate plaza in the Bronx, my locale park Mullally, the Lower East Side and different streets spots that are under raps right now. You can always find me at Union Square on a random night.
What's next for you, in both BMX and life?
Well, I put myself back in college, and I start back in the spring. As far as BMX, I'm a boat in a sea just going wherever it takes me.
To get a feel for Chad's approach to street, check this edit on YouTube. The first line is ridiculously smooth.
xgames.com