David Bouvier is reminiscing back to when he was in the trenches, trying to make it as a pro skier in a country that only considered ski racers to be pros. Back to a Neolithic age called the mid 90s, before the Winter X Games were a global phenomenon and when terrain parks were as rare as Tabasco sauce in France. Now, Bouvier looks around Rossignol's hip global headquarters at the base of the French Alps in Grenoble and says, "Yes, that's when it all started. That was the beginning."
If you need more details, here they are: In 1994, Bouvier was an athlete sponsored by Rossignol. Sixteen years later, he's still with the brand. Only now Bouvier heads up design of all Rossignol skis, including the company's next-generation freeride line. Bouvier's best creation to date is the S7, a rockered powder ski that has garnered a near cult following and received rave reviews in almost every ski magazine on the planet. This winter, Rossi has released a limited-edition Super 7, an amped up (thanks to an added layer of titanal), 195-centimeter version of the S7, which is already flying off the shelves.
The S7 is also important because it may be the ski that saves Rossignol in North America. The brand had fallen off the radar, under attack from upstarts like California-based Armada, which features owner/rider and Winter X multi-medalist Tanner Hall as its highly visible icon, and K2, which has aggressively pursued the freeride market via athlete sponsorships and has ceased production on race skis for Olympic and World Cup athletes in lieu of a single-minded focus on the freeskiing segment.
But to understand the S7, you have to start with Bouvier, and a ski called the Scratch. The Rossignol Scratch exploded on the market as a pure park and pipe design and was the first ski that Bouvier created after he transitioned from sponsored athlete to Rossignol's team manager in 1999. "The guy I worked with was involved in snowboard," says Bouvier. "We came up with the Scratch, and it was made like a snowboard."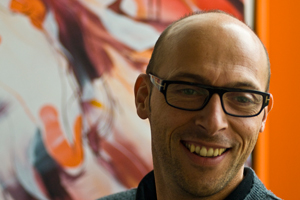 "Then about five years later some reverse camber skis appeared, the Spatula and Pontoon," says Bouvier, referring to models made by Volant and K2, respectively. "That was the first big step that opened the minds of other brands."
Bouvier looked at those skis and started thinking about ski design. But it wasn't until he drew upon his passion as a kite surfer and tapped into the expertise of Rossignol athletes like Sage Cattabriga-Alosa (who now rides for Atomic) that he came up with the concepts that would become the S7.
"We sat down with a bunch of athletes and some snowboard guys and the S7 shape came," says Bouvier. "It was not an engineering process, it was intuition, it was natural. Our idea was to play with and not to fight against the mountain. We made two prototypes and it was done. We were so surprised. It was just amazing, just new."
He also readily admits that if it wasn't for North American skiers, the ski might not have taken off. "The North American culture is more open to this new sensation [of skiing] compared to the old traditional alpine markets," says Bouvier.
But now, those traditional alpine skiers are benefiting, too. "The future is now because we've implemented all the knowledge for the S7 to a new all-mountain family," says Bouvier of the company's product line for 2012. "We bring a brand new behavior in powder and do this for everyone, for my dad, my wife, my grandfather."
And, if Bouvier has his way, future developments for the brand will be even more interesting. "For me, binding is a constraint," he says. "It's not an answer, because there are so many rules around the binding and you are locked into them because of legal issues. No one can get out of that box."
Maybe. But maybe not. With the S7 already behind him, Bouvier says he's looking for new challenges. And given that Rossignol also makes bindings, he's probably not going to have to look too hard.