Is there anything Peter Mel can't do? The Santa Cruz charger has secured himself a slot in the all time big-wave history books. He handles marketing responsibilities for perhaps the biggest surf company in the world. This summer, he made the semi-finals of the Quik Pro Puerto. He provides amazing insight and commentary from the booth of countless pro surf event webcasts. And now he just posted the highest heat score thus far at the O'Neill Cold Water Classic California.
You'd think that at age 40, he might be slowing down a bit.
No way.
In what was thought to be another lay-day, enough swell showed this morning to fire off four heats in Santa Cruz. Mel unleashed a couple right hooks for a 14.80 total (7.6 and a 7.2) over young bucks Ola Eleogram and Dylan Southworth. There were paddle battles and an interference. Mel even hit the cliff at one point.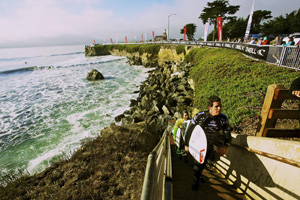 "This is the one event that has been dear to my heart for many many years," said Mel, (who is actually commentating this event) "It's like that for all Santa Cruz natives -- we want to do good in this event. And here I am 40 years old and still out there competing, but this is probably going to be my last Cold Water Classic event," he said.
The other story today was Kieran Horn, who manages O'Neill Wetsuits Marketing Department. Also a Santa Cruz local, he fended off Josh Loya, Tyler Fox, and Tomas Hermes.
So long as the swell continues, Jordy Smith and Nat Young will surf the first heat of Round 2, tomorrow morning.
O'Neill Cold Water Classic California Round of 128 Results:
Heat 13: Ricardo Santos (BRA) 10.17, Casey Brown (HAW) 6.90, Erik Furuholmen (USA) 0.67, Matt Pagan (USA) 0
Heat 14: Cory Arrambide (USA) 10.27, Kai Barger (HAW) 6.53, David Giddings (USA) 6.43, George Nelson (USA) 3.93
Heat 15: Peter Mel (USA) 14.80, Olamana Eleogram (HAW) 12.67, Shaun Joubert (ZAF) 8.20, Dylan Southworth (MEX)
Heat 16: Kieran Horn (USA) 12.40, Josh Loya (USA) 11.00, Tyler Fox (USA) 8.60, Thomas Hermes (BRA) 8.13