In Brazil, where FMX is still a young sport, there is a crop of young riders developing thanks to the success and popularity of events like IFMXF World Championship and the growing presence of riders like Gilmar Flores on the international stage. At 17, Pedro Nougalli is among the most promising. Focused, calm under pressure, and blessed with a diversity of skill, he's poised to become a household FMX name in the near future.

How did your involvement with Motocross start?
When I was a child I used to see my father going to the trails to ride. And when I was 9 I got my first bike. In the beginning everything was just for fun -- I used to hit some tiny dirt lips that I had built to jump with my bicycle. I think FMX already was in my blood at that time. When I was 10 I got a real dirt bike, a Kawasaki KX80. Then I started to practice motocross. When I was 12 I moved from my city to Bragança Paulista, and everything became more serious. Bragança is a quite popular place for motocross, and that has helped me a lot. In 2007 I raced in four different championships, battling for the first positions in all them.

What about FMX? When did you start taking that seriously?
When I moved to Bragança FMX already was on my mind. I used to see Jorge Negretti, Cyro Oliveira and all the crew busting tricks. I was still racing, but at the same time I started to hit some metal ramps. Soon I realized that was what I really wanted. In 2009 I left my YZ250F behind, got a YZ250 two-stroke, and made the transition to FMX.

Despite your age, you've already competed in FMX contests and ridden some demos. How have you gotten involved so quickly?
I was pretty lucky, because as soon as I made the transition to FMX, Negretti invited me to do a demo at Salão das Duas Rodas [Ed: a huge motorcycle festival in Brazil]. So, I got a lot of exposure in the media from that show, and that gave me a valuable experience as rider as well.


After that, I did a couple of demos with the Negretti Team. And this year I rode my first contest -- the Brazil FMX Cup in Rio de Janeiro -- and I finished in the eighth place! That was quite important, because I was able to realize strengths and weaknesses that I had. In fact, I improved my result at the next competition, getting the sixth place at Jump Festival, a few months ago. Since then, I've been doing shows with the Negretti Team. The demos made me realize how FMX is exciting to the crowd, and the contests have taught me that there is no room for flaws. But flaws are not bad, because they show you what you need to improve upon as a rider.

Could you describe your practice routine? Do you have your own spot?
I still spend a long time at school, therefore l can't be 100-percent focused on FMX yet. But I practice every weekend and during the holidays. I have a spot for practicing, provided by a friend of mine, João Perrici, who is also one of my sponsors. It has three metal ramps, a couple of dirt hits and a motocross track, which in my view is essential to improve bike skills.

Of all the Brazilian riders currently, only Gilmar Flores has the backflip really mastered. How do you feel about the backflip?
The trick is crucial -- especially in Brazil, where a flip nailed means supremacy. Besides, that's like the basic condition to get into international contests. I need to master that very soon.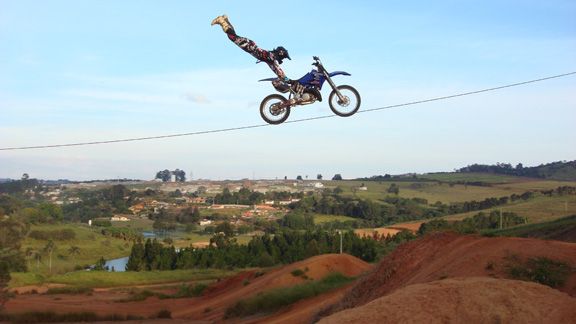 Do young riders in Brazil like yourself receive the kind of support you need to develop?
My family and sponsors support me as much as they can. Especially Joao Perrici (Laskani Imports) and Star Racer (Alpinestars). They provide a lot -- a compound, bikes, equipment and so forth. But I live in the soccer's land, and sometimes it's not so simple to get everything necessary. But I believe that I have what I need to become a big gun, and I'm working hard to accomplish that.

So, what are your goals in FMX?
I want to be professional rider. I want to ride abroad at the different compounds, places, and experience all there is to experience as a professional FMX rider. And of course, be a competitive rider in the main contests, raising the level of Brazilian FMX.