While you've likely spent the better half of the summer (and spring and fall) scheming up new tricks to show off this season, resort terrain park crews have been dreaming up new ways to help you meet your shred goals. Here's a sneak-peek look at resorts that are upping their freestyle game for the 2010-11 season.
Jibs and Jumps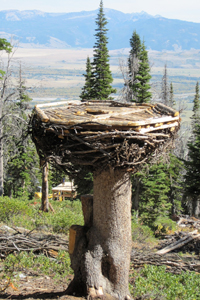 Mammoth Mountain, Calif. is rolling out major improvements to its Unbound Terrain Parks, a move that the resort's new park manager, Josh Chauvet, is keeping semi-secret. Word is that there will be a training park, complete with two inflatable airbags -- one for a modified pipe, the other for a jump -- and couple of brand new stand-alone parks. As for the new changes, Chauvet stresses the need to create features for all levels of creativity and skill. "We're trying to push the sport forward, and we're doing that by making it accessible for kids that are influenced by this kind of riding that they see in videos." Look for street-inspired "gaps that have concrete ledges that mimic what you'd find at an urban session." Riders can expect more announcements from Mammoth in the coming weeks.
Jackson Hole, Wyo. is the newest mountain to get a Burton Stash Park. Jussi Oksanen, and local heroes Travis Rice, Bryan Iguchi and Rob Kingwill have all consulted on the construction, which follows the traditional Stash Park design philosophy: to build on features already existing on the mountain -- rocks, trees, dirt -- to come up with jib runs that follow the natural, organic flow of the runs they're on. Among the numerous features sure to blow even the most jaded jibber's mind are an eagle's nest (see pic) made to hold snow to mimic the powder puffs found in Rice's favorite Japanese tree runs, and a gong hung in a tree meant for ringing with the tail of your board as you fly by it. Fun times.
Utah's Canyons Resort and Mountain High in SoCal are both stepping up their freestyle program by offering top-to-bottom parks, measuring 1.1 and 1.6 miles in length, respectively. New features at Canyon's park will include natural jibs, straight-from-the-junkyard hits and a creative twist on the lips and landings of their jump line. Mountain High's new top-to-bottom East Resort run will feature a second learn-to-ride beginner park, while a boardercross course and pipe jib -- complete with a working DJ booth -- will debut at West Resort.
Park City Mountain Resort in Utah is adding night riding to the mix, and doubling the size of two of their four terrain parks. The intermediate Three Kings Park is utilizing an extra trail to add four additional jumps and an extra 15-20 new jib features. All of these new jumps can be enjoyed until 9 p.m., seven days a week.
Crystal Mountain, Wash. will debut its first-ever terrain park this season. East Coast shredders landlocked around the Pittsburg, Pa. way, Seven Springs is adding a new staircase feature with adjustable rail and box components to its park, and also a year-round mini-ramp at the base of the resort for après shred skate sessions.
Superpipes
The Dew Tour's host resorts will bring exciting change to their pipes this season. Killington, Vt. and Breckenridge, Colo. announced their upgrade to a 22-foot Superpipe this summer, while Snowbasin, Utah will construct a matching 22-foot pipe for the second year in a row. Whistler, B.C. rolled out a 22-foot demo pipe this past spring and, because of overwhelming and positive feedback, will reintroduce the pipe for the season. Whistler is currently the only resort in North America to use a Global Cutter snow cat, which the say creates a smoother, wider landing zone than other pipes. Woodward at Copper will be added to the 2010-11 superpipe roster, which now also includes Mammoth, Buttermilk, Colo. and Park City.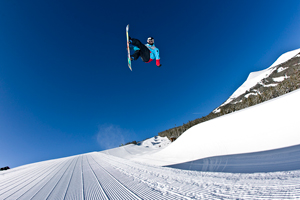 Mini-pipes
Bigger isn't always better. A number of resorts are scaling back on the size of their halfpipes this season, encouraging beginners and intermediates to learn the fundamentals. Whistler, Mountain Creek, N.J. and Snowmass, Colo. are three resorts that are reviving the mini-pipe. The three new pipes will range between 12-15 feet. "Making this decision was important for our guests," says Melissa Rhines, spokesperson for Aspen/Snowmass. "There are a lot of people getting into pipe riding, and [a smaller pipe] was one thing that was missing. We want our guests to enjoy the pipe without having to jump into something that's above their skill level."
Seven Springs, Boreal, Calif. and Mt. Snow, Vt. also all have smaller pipes in the six-10-foot range (along with an 18-foot pipe at Boreal), and you can expect Keystone, Colo.. Mammoth and Bear Mountain, Calif. to come back with mini-pipes in the 11-15-foot range. Breckenridge will also keep its six-foot and 12-foot pipes to compliment their superpipe.