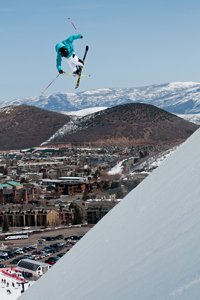 Although he is a native of the south island of New Zealand, Byron Wells might feel just as home here in North America. The younger brother of Jossi Wells, Byron and his older brother have been following the winter from hemisphere to hemisphere, and competing against each other, for more than a half a decade. Last season, the young Kiwi made a name for himself in contests, taking 3rd in pipe at Aspen Open, 5th in pipe at Euro X Games and in August, 2nd on his home turf at the New Zealand Open halfpipe contest at Cardrona. This fall, you can see Byron in action in "Light The Wick," the new film from Teton Gravity Research.
ESPN: For years, you've been spending your winters in America, and then spending, well, your winters in New Zealand. How many days a year would you say you're on skis?
Wells: I spend about nine months a year in winter so I would say somewhere between 200-270 days depending on weather and injuries.
Do you ever get tired of it? Or is endless winter the life for Byron Wells?
I always get to that point of needing a break but after having a couple of weeks of that "needing a break" turns into needing to get back to it.
Pipe fans have been dreaming of a Byron v. Jossi showdown at Winter X. Is there a tough rivalry between the two of you?
There is rivalry between us for sure. We're brothers, so what do you expect? Having a Jossi and Byron showdown would be epic. Maybe someday it will actually happen -- maybe this winter!
Did you see "Inception"? What was up with that movie? Just saying.
Ohhhh! I haven't yet. I so want to though. Is it good?
I don't want to give anything away, but it has skiing in it. This fall I understand that you're skiing on the big screen in TGR's "Light The Wick." What will ski moviegoers be seeing out of Byron Wells?
I was really stoked to get the chance go to Stevens Pass and shoot with TGR this spring. Everybody in their crew is so rad and easy to work with. Just to start filming with a major company was sick all by itself. But I was lucky enough to be a part of TGR's 3D cinematography project -- the first 3D ski film segment ever. That experience was way beyond what my stoke level can normally get to.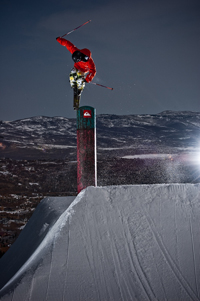 Once they get in with a production company, a lot of freestyle skiers gravitate away from competing and toward filming instead. What is your take on that?
Filming is a huge part of our sport. But it's almost impossible to break out by only filming, without competing at all. That's why most skiers come up though competing and create a name for themselves that way and then drop the skinny skis for some fatties and head out into some pow. I think the more you can get done in a season, be it the number of comps or the number of shots you can get, as long as you're doing what you love and achieving your goals at the same time, you can do whatever you want. The sky is the limit.
What would you rather do, compete or film?
Can I say both?
Speaking of competing, what are your goals for the upcoming contest season? And what have you been doing in the off-season to prepare?
What off-season? Didn't I already tell you that I ski nine months a year? This winter, I hope to make finals at all the contests. It would be great to maybe get a podium somewhere in there, too.
What are your favorite things about competing?
I love standing there in front of thousands of fans and getting the course or the pipe all to myself for one minute. And I love having nothing but skiing going though my mind.
What are your favorite things about filming?
I love hitting the jump, rail, pipe or skiing a line and hearing the heli with the filmers in it hovering over the top of me. That is one of the coolest sounds, the coolest feelings, in the world.