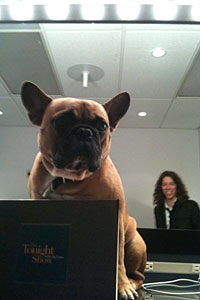 Fresh off a skate trip through Oz and a surf trip to the Maldives, Shaun White stopped by the Tonight Show Wednesday night, promoting his new Shaun White Skateboarding game (hits shelves Oct. 24) and the final stop of the Dew Tour, to take place at the Hard Rock Hotel & Casino, Oct. 14-17 in Las Vegas.
Anybody's who's seen Shaun on the late night circuit, post-Olympics, knows the man gets the grammar of late night and his schtick's as solid as his double corks. With no rush, no awkward silences -- just havin' a chat with my buddy, Jay. It's like he was born in the guest chair.
After introducing him as "the greatest snowboarder of all time," Leno asked why his copy of "Shaun White Skateboarding" actually contained no disc. White replied, deadpan: "Shifty stage hands back there..." This easy banter segued into some awkward vacation snapshots of Shaun involving electric guitars on boat decks and rockin' scuba gear while White joked about his redheaded inability to tan and Leno joined in by asking him if he uses concrete as sunblock.
Full Story