What a difference a week makes. Still in Europe but different country, different contest, different contest director. Former two-time world champ Damien Hardman is directing the show for the Rip Curl Pro Portugal and like his surfing, his contest calls are direct and to the point.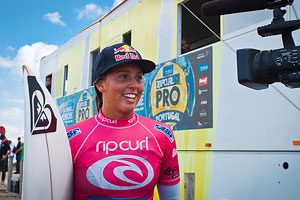 Day One of the waiting period and he pushed the "Go" button. The men got a reprieve from the stormy conditions, but the women were thrown right into the maelstrom. No Supertubos for the gals, but a move to the back up site of Lagido delivered some serious surf.
The women were sent out in solid four- to six-foot surf that was kept relatively clean by a howling offshore wind, and believe me they were made to work after their four-month lay off.
Reigning World Champ Stephanie Gilmore had joked at the press conference that she was looking forward to competing after such a long break, but she came unstuck in her first round when the contest wildcard French surfer Cannelle Bulard pushed her into second place. Steph had her revenge when they met again in Round 3 (yes, Hardman made the girls surf three times today and he's talking about doing it again tomorrow).
Read More »