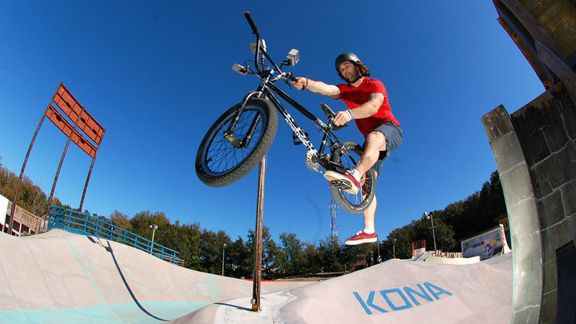 FBM's Eric Hennessey isn't your average BMXer (unless you count ostrich racing, pig wrestling and living in a school bus as average.) 26-year-old Hennessey originally hails from Webster, Mass., and rides for the FBM pro team. Eric also keeps a detailed blog of his life's exploits under the "Trails Rule" moniker, and it was there that I learned about Eric's desires to free himself of the entanglements of society in search of a more carefree existence. To that end, Eric quit his job as an electrician, bought a school bus to live in and continues to travel the East Coast to ride whatever he encounters. In between stints on the road earlier this year, Eric worked at a fair, guarding a gate for 17 hours a day, while racing ostriches and wrestling pigs. And that made me think that the world needs to know more about the mysterious life of this nomadic existentialist. This is Henny.
My favorite BMX trick is: Low jump to nose case, or heel clickers.
The last person I called was: My father.
List one word to describe yourself: Sarcastic, but most people just think I'm a jerk.
One thing I regret is: No regrets, I just learn from mistakes.
The last song I listened to was: Something by Bob Dylan on Pandora Radio.
My best friend is: All of my friends.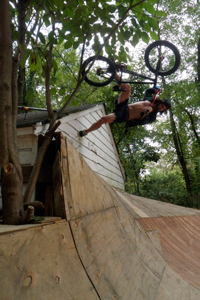 Something I wish I had more of is: Intelligent conversation and surfing in Puerto Rico. I need more of that in my life.
Something I wish I had less of is: Right now, it's food. I just over ate and don't feel good.
My biggest fear is: I'm gonna go with scuba diving.
The thing I love the most is: Traveling with friends.
The thing I hate the most is: Money.
A nickname I have is: Crandall started calling me "China Doll." Fortunately, it didn't stick. Everyone just calls me "Henny."
The best advice anyone has given me was: My mom told me this Dr. Seuss quote. "Be who you are and say what you feel, because those that matter don't mind and those that mind don't matter."
My biggest dream is to: Travel around the world, experiencing different cultures.
My most important possession is: My bike. not because I can't live without my bike, but because my bike is the reason I have traveled to amazing places and met so many amazing people.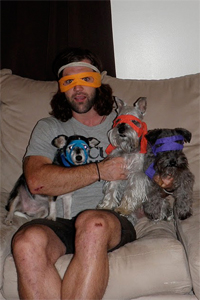 One person I'd love to meet is: How about two? The owner of Patagonia, Yvon Chouinard, and Henry David Thoreau in 1845.
Riding for FBM is: not about riding bikes. It's about having good times with good friends. And I think that is what BMX is about and that's exactly how I feel about it, so riding for them has been a dream come true.
Wrestling pigs at state fairs keeps me: Busy in between all of the ostrich racing.
The Teenage Mutant Ninja Turtles are: If you didn't grow up in the Ninja Turtle generation, then you wouldn't understand. And if you did, I don't need to explain.
I should thank: Vic Bettencourt at Circuit BMX. He has a lot to do with why I am where I am with BMX, FBM owners/employees/team for all of the amazing experiences I have had in the last year and Matt Coplon at Profile for agreeing with me that Phil Dalhausser is the best USA Olympic volleyball player or all time.
xgames.com