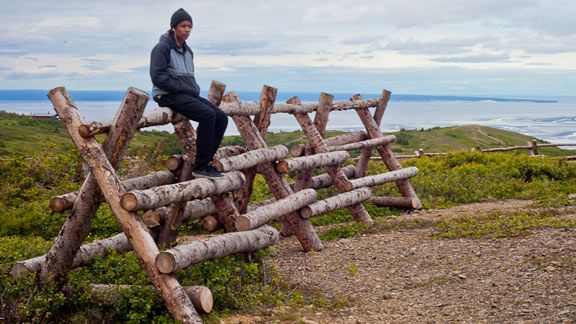 After a short but very productive tenure on the Powell team, Boo Johnson was recently welcomed to the growing am squad on Element. He's already been in the van and even made a trek to Alaska with them and is the process of filming for an upcoming video project with the squad. With his first Element ad in mags this month and his welcome to the team video clip blazing through the Internet, we' thought it'd be a good time to find out a little more from the kid.
You just switched from Powell to Element. How'd that go down?
Maybe six months ago Element Team Manager Ryan Dewitt hit me up asking me if I was trying to get hooked up by Element and I had just turned am for Powell at the time so I just couldn't do them like that. So I waited a little bit to see if Powell would progress after the video dropped but nothing really happened so I hit up Ryan again and asked him if he was still down. Then I met up with all the dudes and they were super sick and I was down with Element ever since then.
How did your former Powell Team Manager Deville Nunez take it when you quit Powell?
Yeah, me and Deville are super close still. He's a good homie that brought me up. He made me do what I had to do to make it. He makes you jump down the biggest stuff that, in the long run, is worth it. But yeah, I couldn't do it no more. It was too gnarly.
Do you have a thing for New Jersey team managers? Deville and Dewitt are both from Jersey.
That's funny that it's like that. They're both super sick TMs so it's tight they're both from Jersey; I give respect to them.
One of your first trips with Element was to Alaska. What was that like?
It was super sick. I got to meet and chill with all the dudes. That was my second time chilling with all of them so I didn't really know everybody but it was a real fun trip and good experience getting to know everyone. It was crazy because it was light out almost all 24 hours in the day. We would skate until so late and not even realize it because the sun was still shining. We were seriously skating this gap until like 11 p.m. or midnight and after the session we were tripping when we looked at our watches. It was still sunlight and we hadn't even had dinner yet.
How did you get the name Boo?
When I was a little dude my mom would call me Boo Boo; I'm not quite sure why. As I got older it stuck with me and she started calling me Boo. Then all my homies started calling me Boo. My teachers called me Boo. Only a few teachers called me by my real name, Jakel (pronounced Ja-kel). It just stuck with me and it worked out; it's kinda cool.
My last question is, how bad does Levi Brown smell?
He actually doesn't smell too bad but there are times when he'll just chill and not shower and his hair will stink super like a hippy dude. But sometimes he cleans up and looks all fresh with his blonde hair.