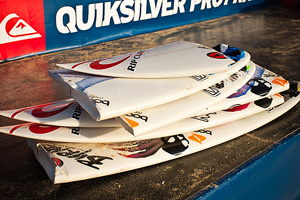 A week ago, Jordy Smith broke three boards in one heat at Trestles. This week, it was his fellow young gun, Owen Wright's turn to snap three sticks before the 20-minute mark of a 30-minute heat.
Culs Nus, the main bank for the Quiksilver Pro France was pumping early today with a clean 6-foot plus swell. Pristine barrels greeted the guys in the early heats, but as the tide changed and a light onshore came up, the bank started to live up to its previous gnarly reputation and heartbreak followed board break.
A four-letter expletive was all Owen Wright could get out when asked about the foam carnage in his heat. He'd snapped three boards in his loss to Dan Ross, who had broken one in their 30-minute heat.
Owen declared, "That's the best losing heat I've ever had. They were sick waves. I would have broken 20 boards to get one of those lefts. I took off on three 10's and broke a board on every one!"
Full story »