It is no secret that the internet can be a hateful place. It's the modern equivalent of the Wild West. There are no rules and a lot of people who feel entitled to judge the smallest actions of fellow skateboarders have forums to do just that. Nonetheless, I was shocked when I stumbled across a message board post regarding Jamie Tancowny's impending pro status. Having produced two mind-blowing video parts in just under a year [in Emerica's "Stay Gold" and in Zero's "Strange World"], I couldn't figure out why any person would say Tancowny didn't deserve it. Haters be damned. Tancowny doesn't care what anyone else thinks. And honestly, why should he? He's the one whose name will soon be on the board beneath his feet.
Where you been, man? What have you been up to?
Nothing, I've just been chilling in Canada for a while.
How long have you been up there?
Well I came down for the premiere of "Stay Gold." That was the last time I was in California.
Well speaking of the premiere, I read online that you are going to go pro. The funny thing is, I thought you were already pro because of that tie-dye board a few months back [Zero made some signature colorway decks with rider names on them that weren't officially pro boards].
Well I don't know. Jamie Thomas just did this weird thing where he did these boards for some of the ams. I think he gave one to Keegan Sauder before he turned pro. Then he gave one to Sheldon Meleshinski [who is still amateur].
So, when is your real board coming out?
I think on October 15th. We're gonna have a rad party at Bryan Herman's new Pharmacy skateshop in Hollywood. He's got a big space in there so it should be really good. I'm 21 now!
The whole thing that caught me so off-guard when reading about your new pro-dom was a lot of the people in the thread hating on it. I read things like "He hasn't been on long enough" or He hasn't done enough." I was shocked. almost spit my drink out.
Yeah, it's just funny. I didn't know people were saying stuff like that. But I don't doubt that they were. People will hate on anything. Saying stuff like that is so tired.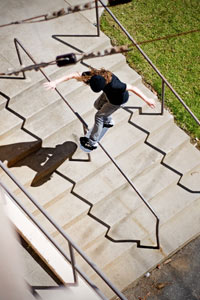 You're the skater who put out two gnarly video parts in under a year. Who is anyone else to say what you deserve?
I think they should just shut up and mind their own business. Just watch the videos if you want to watch them. Don't talk trash on people you don't know. Just go skate. Those [message board] guys are stupid and just talk trash.
Enough with this negative talk. Tell me about the "party houses" you cycled through in SoCal for the last couple years.
Oh man, those things were a good time. I'm back up in Canada with my girl now. She's from Edmonton. I'm from a little town outside of the big city. We got our own place, just trying to settle down a little bit.
I gotta ask you the "Stay Gold" questions. What do you think about the influence this video has had, just in the few weeks it has been out? How has it influenced kids as far as bringing them back to the stairs and rails and streets as opposed to the cinderblock ledges with parking curbs on top of them?
Yeah man, it's definitely more "real" real. There were definitely a few nervous breakdowns with me. Just like, getting injured and staying out all night trying to get things done, racing to get tricks on the last day of trips and ending up not getting anything. I was skating with bruised heels for months. You don't have any time to heal. Right after I finished "Strange World" I chilled for like three months. That was way too long to chill. I ended up not having enough time. I just had no time to chill at all with all the injuries. Then I ended up splitting my shin open super bad. I had a month left to film, I think. I ripped my shin open super badly. iIt took a whole chunk of skin and tissue out with it.

I looked down and I could see my bone.
--Jamie Tancowny
How is that going?
Going good. Long Beach is so good. Crushing!
The same way that Mikey Taylor split his shin open in the TransWorld video?
It was kind of like that. It was the first time I went up to skate with Brandon Biebel and Guy Mariano up in Embarco or whatever. It was just my first time there and I went to skate this ledge that I thought was plastic but it ended up being marble. It was just that color that you could get them mixed up. So I went to try a fakie 5-0 and just got pitched. I stuck so hard and it pitched me right onto my shin on a marble ledge and it ripped me open. I went to the hospital to go get stitches but they couldn't even do that because they said there was too much skin gone.
Wow, that sucks. Were you able to skate at all after that?
I just wrapped it up and went on the next trip. I tried to skate, that's for sure. It just hurt super bad. Actually, at the end of that trip I ended up landing on the tail of my board. It popped up super quick and smacked me in the shin again. I looked down and I could see my bone.
What's up with Heath Kirchart giving us the sickest 10-trick part and then just retiring?
I don't know man. I don't know. I think he is going to chill for a while and then end up skating again. Because, to be honest, that dude can't not skate, you know?
That is what I keep hearing about him as a person. He's so driven that he can't just stop.
Well ... you can't just stop skating. It's weird. I think all the publicity around it will influence him a lot too. He's just a very unique guy.
Heath has just been such a major influence on skateboarders and skateboarding as a whole. I feel like a lot of people are taking it kind of personally.
He looks at it like the next part he wants to film, he constantly has to be one-upping himself. He just can't put out a part that isn't as good as his last part. That's him though.
I get that. Speaking of one-upping yourself, who had the best part in "Stay Gold" in your opinion?
I liked them all so much, that's so hard. Can I give you three that I liked the best?
For sure, hit me up.
Bryan Herman, Justin Figueroa and Brandon Westgate.
Those are solid parts. I was really feeling Herman's picnic table tricks.
That's another thing! People were talking trash on that too! His part is amazing! I just don't get that.
Well, what's next for you? Are you all healed up?
Just healing up. Picked a little teeny scab off of the shin and it started bleeding. Besides that I am going to go down to the Vans Downtown Showdown contest. Come up there, dude. Let's party!
For sure! Good looks on going pro!
Yeah Dude!