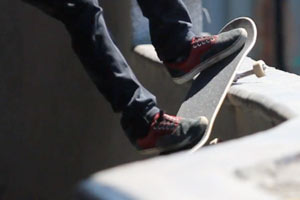 This week's video roundup comes from skaters putting down solid tricks all over the country. First up Boston's Lee Berman was welcomed to his new home on Creation skateboards with this clip. Also in Beantown, the Toebock crew (Adam Crew and his buddies from Portland, Washington, SanFrancisco and beyond) spent some time in Boston this past June and came up with this tight edit. Meanwhile, the Fiveboro crew hit up the new skatepark in York, Pennsylvania.
In the Midwest Habitat's
Alex Davis
kept it local in Cincinnati and shows of a grip of never before seen fun spots in
this day-in-the-life type clip
. Habitat also has a clip of flow rider
Mark Suciu
. This kid is
damn good
.
Out West the newly formed Lifeblood skateboards team takes on the concrete at Orcas Island. South of North the majority of the Cliché squad went to Los Angeles with Fred Mortagne and filmed this amazing clip along with their American teammates Joey Brezinski and Daniel Espinoza.
While posting up in San Diego for a spell, aussie ripper Dane Burman grabbed 10 tricks in the Black Box park here. And finally, new pro Vincent Alvarez headed to San Francisco to put a hurting on the crushes Thrasher park, Double Rock. Alternate angles from Roger Bagley and the crail crew here.