After a few days of small and/or crappy beachbreak, getting through Round Two has taken longer than the French Revolution. But the Quiksilver Pro France is back on today. Catch the webcast here.
Last night saw one of those magical free sessions that gravitates around the World Tour with all the varsity boys out crushing in. Our ace journalist, Peter 'Joli' Wilson, was out capturing all the action. He reported that Mick Fanning was riding a new sled, shaped by Aussie legend, Simon Anderson, and really seemed to connect.
The event also took advantage of the lay days to hold the Quik King of the Groms World finals. 15-year-old Matt Banting, of Australia, took this year's title. Banting has been to this elite event the last two years. In 2008, he was taken out by Maxime Huscenot (who fell to Slater in the second round of the Pro.) And in 2009, he lost to Gabriel Medina. This year, he beat out Fellipe Toledo, of Brazil in the final, 17.27 to 14.57 with a seriously technical attack.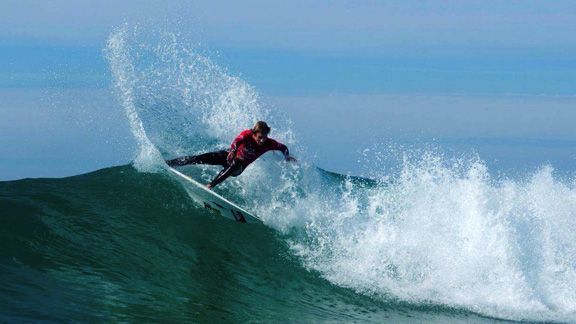 Round Two continued today with Damien Hobgood beating Travis Logie, Luke Monroe putting the breaks on Andy Irons, Daniel Ross ousting Bobby Martinez, Tom Whitaker downing Tiago Pires, and Jadson Andre surfing brilliantly against Matt Wilkinson. We will have the full report at the end of the day.