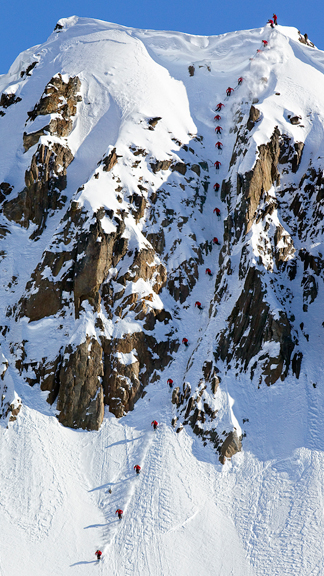 [Editor's note: Whistler-based big-mountain skier Ian McIntosh stars in the latest film from Teton Gravity Research, "Light The Wick." McIntosh skied these two lines, located in the backcountry near Whistler, BC, last winter while filming with TGR.]
For the last few years, I have been filming segments for TGR in the backcountry around Whistler. We do this by using our snowmobiles to travel over huge areas of the mountains always looking for new terrain to ski. I am always looking for tight couloirs that I can straightline and when I saw these two lines I knew that I had to ski them.
I scouted them from an adjacent ridge and also from below and above. When doing these kinds of lines it's important to take a really good look at them so that you can be sure they're doable.
Dropping into these lines is very scary. If they're really tight then you're wondering if there's going to be enough room to get through, or if there is any rock that you didn't see. If they're really long then you're wondering how much speed you're going to have by the bottom.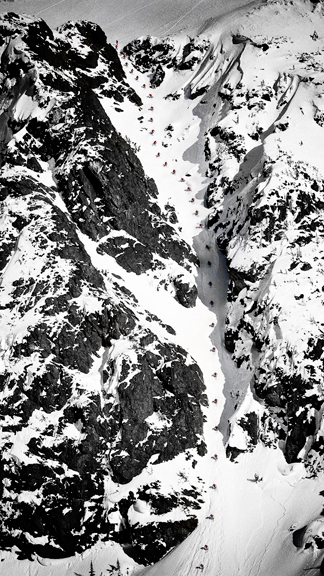 Skiing these lines is the easy part. It's the whole build up to the ski that's the hard part.
Just point it and stand strong on your skis. Don't lean back and be ready for bumps.
The risks are huge if you mess up, just imagine tomahawking through a tight couloir at 80 miles per hour bouncing off the rock walls the whole way down. I don't think I would be too good if that happened.
The snow conditions on these lines were horrible. It was wind pack that was hard to get an edge into and it was really rough and it chattered the heck out of my legs. But you don't need good snow to go straight.
I bet that on the longer of the two lines I got up to 70 or 80 mph.
The most important tip I can give for skiing lines like this is study your line closely and make sure that you can pull it off because once you drop in there's no turning back.
I like to spell couloir the way it's spelled but I guess if you spelled it like it sounds it would be more like coulare or something like that.